By Ikechukwu Amaechi
At last, the November 18, 2017, Anambra State governorship election has been conducted and Anambrarians are ululating. They have every reason to be joyous. What many thought was a tinderbox about to explode turned out, perhaps to be one of the most peaceful and transparent elections in the country to the extent that today, nobody is threatening, at least not yet, to challenge the outcome in court. That is highly unusual.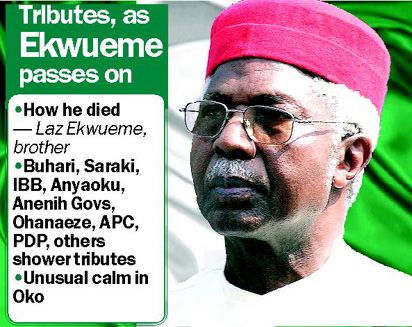 Then, fortuitously,  on Sunday, a day after the historic poll which outcome positively rebranded Anambra, one of the state's most illustrious sons, the pride of the Igbo race, and Nigeria's democracy beacon, Dr. Alex Ekwueme, former Vice President, died in a London hospital three weeks after he suddenly took ill at his Enugu home and one week after he was flown abroad for qualitative medical care.
On hearing that Dr. Ekwueme was gravely ill, President Muhammadu Buhari ordered that he be flown abroad. I have a draft of an article on the president's "kind gesture," and the fact that almost every Nigerian "big man" who died in the last ten years died abroad, but discontinued for fear of being misconstrued. After all, human life was at stake but now that death has again snatched one of our best in a foreign land, it is high time we examined deeply a very disturbing, if not humiliating phenomenon, that is becoming a fad. But that will be an issue for another day.
Dr. Ekwueme was a quintessential democrat, an intellectual in politics, a national icon. His was politics without bitterness. The gentleman and patriot that he was, he amply demonstrated by his actions both on and off the political arena that politics is not a dirty game played only by grimy characters. Instead, he proved that politics and integrity can and, indeed, should be soulmates. For many years, Ekwueme was a bridge-builder and stabilizing political force in Nigeria who brought his enormous intellect to bear on the country's politics.
As Editor of Weekend Examiner newspaper in the early 2000, I remember interviewing him (the first and only time I was privileged to do so) in Lagos. And what a humbling experience it was for me. He was a teacher, a historian, a philosopher. His candour was disarming. He never parried any question. His understanding of Nigerian politics and the actors was fascinating. I left him not only grateful that I got my dream interview but also the fact that in the 90 minutes the interview lasted, I had learned a great deal about Nigeria.
But my fondest memory of Ekwueme was his political sagacity at the Jos Township stadium in late 1998 where the then newly formed Peoples Democratic Party (PDP) had its first national convention to pick a candidate for the 1999 presidential election.
Having formed the G34 that metamorphosed into the PDP, Ekwueme was in a pole position to pick the party's ticket until the military establishment led by then head of state, Gen. Abdulsalami Abubakar and his Minna Hilltop neighbour, former military president General Ibrahim Babangida, stepped in and anointed one of their own, General Olusegun Obasanjo, who was in General Sani Abacha's gulag when the PDP was formed.
To foist Obasanjo on the party, all the rules were changed in the middle of the game. One of such rules was that an aspiring candidate must deliver his ward. But Obasanjo lost not only his polling booth but ward, local government and state. The defunct Alliance for Democracy, AD, locked down the entire Southwest.
Yet, Obasanjo was annointed by the military cabal. That was the beginning of the impunity that ultimately ruined the party.
On the convention night, Abubakar was in his Aso Rock lair but Babangida's boys led by General John Shagaya were in town to direct the operation and ensure that nothing went "wrong." The Jos residence of Alhaji Yahaya Kwande, Nigeria's former ambassador to Switzerland and a PDP chieftain, was their operational headquarters from where the strings were effectively pulled.
Ekwueme was aware of the conspiracy and the odds against him but fought gallantly.
I remember confronting Chief James Ibori, whose Sunday Diet newspaper I was editing then, when he was leaving the convention arena after casting his ballot. He had just won the election as Governor of Delta State and led the Delta delegates. Many states were yet to vote but Ibori had a meeting that morning with the outgoing military administrator of Delta State, Navy Captain Walter Feghabo. I told him he couldn't leave because the election was too early to call but he said matter-of-factly that Obasanjo had won. When I insisted there could be a run-off, he dismissed me in his typical Warri pidgin English thus: "Ikechukwu, abi you no get my number again? I beg, make you call me if una get a run-off."
Of course, there was no run-off. Obasanjo won handsomely and Ekwueme there and then mounted the rostrum to concede defeat, congratulate him and pledges his support to the chagrin of many of his supporters who felt that he gave in too easily and should have in the typical Nigerian style stormed out of the arena in protest and concede later under very defined terms and conditions.
But Ekwueme was not the typical Nigerian politician. Having fought to throw off the yoke of military dictatorship, he was not about to do anything that would truncate the fledgling democracy even if the major casualty was his own ambition. For him, it was not about self. It was about the country.
When Obasanjo, having won the presidency, altered the zoning arrangement for political offices and gave the Senate Presidency to the Southeast so that Ekwueme could take the position, he declined. For him, it was not about power, influence and wealth for their sake. At a much younger age, he was one of the major financiers of the defunct National Party of Nigeria (NPN), and he left the presidency after General Muhammadu Buhari's coup of December 31, 1983, much poorer.
He knew why he wanted to be president and if he was not going to get that opportunity, he was not going to be in the power loop just for the sake of it.
That is Dr. Ekwueme, the man who died on Sunday at the age of 85. The tragedy of the Nigerian situation is that with his death, the clan of those with his political pedigree who see politics and political office as a call to service rather than an opportunity to amass wealth has depleted further and there are no replacements.
Ekwueme died a day after the Anambra poll in which his daughter, Alexandria Chidi Onyemelukwe , was the PDP candidate's running mate. If he had lived, he would have congratulated the winner and the good people of Anambra for making the Igbo race proud.
The outcome of last Saturday's poll in a most uncanny way was an anti-climax.
For an electoral umpire that is known for "inconclusive polls," this particular election was almost flawless. No reported cases of violence! No thuggery!
Yet, it speaks ill of us and the health of our democracy that in an era when, even in some African countries, elections are conducted seamlessly with voters dropping off their children in school, then going to the polling booths to cast their ballot, and going back to work, a state as economically important as Anambra, the gateway to many other Southeast and South-south states, had to be shut down, literally, for two days – Friday and Saturday – just to hold a standalone governorship election.
It is instructive that Obiano won in all the 21 local governments. It was an emphatic victory. The people made a forceful, unequivocal and loud statement with their votes.
It is left for him to reciprocate the people's goodwill with good governance. Anything short of that will be unmitigated betrayal.
As for Ekwueme, Ide Okoh, he must be very proud of the incredible political feat achieved by Anambrarians in particular and Ndigbo generally on Saturday. May his soul rest in peace.
Ikechukwu Amaechi, Managing Director/Editor-in-Chief,  TheNiche on Sunday newspaper, Ikeja, Lagos.