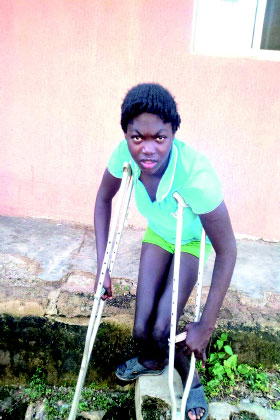 Elizabeth on crutches
By Edoamaowo Udeme
Deborah, Elizabeth and Ishaya are three of a kind.  They are victims of avoidable circumstances. For Deborah, lack of adequate health facility and awareness caused her trauma from the damaging effects of jaundice, while ignorance and lack of family planning by  Elizabeth's parents caused her grief. On his part, Ishaya is a victim of neglect by a care giver and poor access to a good health facility.
Beautiful Deborah Igomu, 14, has never enjoyed the joys of childhood. She has no playmates, has never walked, spoken, dressed up and gone to birthday parties or school functions or done anything for herself. She has not developed as her contemporaries and faces a bleak future because of an unusual challenge that has caused her to be left behind.
Deborah has been on diapers all her life. Her parents who hail from Benue State, welcomed her into the family as the last of their five children. After her delivery at Wuse General Hospital, Abuja, little Deborah was taken home, nothing unusual was apparent until their neighbour, a nurse visited and raised an alarm when she saw the baby was jaundiced. Immediately, she was taken back to Wuse General Hospital.
"They had known that my baby was jaundiced but discharged her and when we rushed her back they claimed there were no beds and referred us to another hospital," said Peter.
"We went to two other General Hospitals in Abuja but we were still referred. By the time we knew what was befalling us, it was too late. My beloved baby was turned to this (pointing at a very badly deformed Deborah). This is what the doctors at Wuse General Hospital did to my child."
All efforts to redeem Deborah's problem have been futile. Peter,her father lost his job at the Federal Housing Authority where, according to him, he was unjustly sacked. Her mother, a petty trader cannot cope. Deborah wears at least five diapers every day, at an average cost of N400 a pack. By the end of December 2017, they would have spent about N146,000 on diapers for 2017 alone. The cost of diapers over the past 14 years can only be imagined.
Deborah is hyperactive, and in trying to communicate, goes into a fit, struggling with words that are unintelligible sounding more  like the groan of someone being strangled. During an encounter, she was constantly being checked and carried back and forth to her mattress. Her father, Peter was distraught.
"You can't leave Deborah for a minute, even to go across the road to buy bread, by the time you return, she would have wriggled and fallen off the mattress and injured herself. If I am in church, my wife stays home and vice versa. We are stuck at home because of her. Neither my wife nor I have ever attended any public function together. Who will care for Deborah if we do? We can't leave her with her siblings.
At a point, a family member urged us to throw her away in a forest to die, but I can never do that to my precious child."
In an emotion laden voice, her mother whispered: "God will bless my husband. Without him, I would have been dead. He takes care of Deborah more than me and the siblings put together." Peter is a doting father and if Deborah could talk she would nominate him as the best father in the world.
Elizabeth's case is similar. Years ago, when her mother (Rachael) announced to the young man she was going out with that she was pregnant for him, he denied the pregnancy and disappeared without a trace.
Both of them had met in Makurdi, Benue State and the young Rachael was unable to locate his village until the baby, who was named Elizabeth, was born. Three months later Rachael's father, was quick to observe that the baby's limbs were deformed and that she might never walk. He was proved right because Elizabeth, now 14 is crippled. She was never immunized against polio and the crippling disease took its toll on her.
Watching the lovely girl smiling as she crawled about in crutches elicits emotions. Like Deborah, Elizabeth has never seen the four walls of a classroom. Her speech is slurred but she manages to be a bit audible.
Rachael spoke of her problems: "I want to take her to a school around here in Mararaba (a surburb of Abuja) but I am worried about the distance and there is no school close by here, I also work so I leave her behind most of the time.
"Nobody is helping me. I am caring for her alone and also leave her as I go to work in a security outfit daily, except for neighbours who keep an eye on her for me."
Rachael has often been advised to abandon the child, but would never dream of it. "One of my relatives actually suggested that I throw her into a river as she would be a burden to me forever. In my place, throwing a disabled child away is a norm because everyone believes the child is evil. If I had left her at home, she wouldn't be alive today.
"I have lost many marriage proposals once men see her, they leave. I lost a very serious relationship last year and still haven't got over it but I can't throw my Elizabeth away. I wish I could afford a school where she would attend and I would visit, but it's impossible on my meagre salary."
For Ishaya, "Wonderful" Monday, who hails from Jabba, Kaduna State, his case is similar. At 7 months, his parents left him in care of his maternal grandmother and went to farm. In the bid to cook, grandmother lit a fire inside her hut, but went outside briefly only for little Ishaya "Wonderful" to crawl to the fire and stuck both hands inside.
He was badly burned and his yelling attracted neighbours. He was rushed to the only available General Hospital a few hours from the village, but "Wonderful" lost both limbs. Today, over 20 years later, what is left, from the elbows up, are stumps. There is nothing to show that there were once fingers.
What really earned him the nickname "Wonderful" is the dexterity with which Ishaya utilises what is left of his limbs. He does everything for himself without help—cooks, washes, dresses, showers, writes, make phone calls and even rides motorcycles.
Cheerfully, he narrated his ordeal. "I only noticed when I was growing up that I was different from others, I didn't know what happened to me until I approached my parents and they explained, I initially blamed my grandmother but later left everything to God for sparing me during the incident.
"At a point, I observed that others were going to school and I wasn't so I asked my parents why and said I wanted to go. Their initial worry was understood and they were shocked when they realized that it paid off. I could write.
"By the special grace of God, I will be graduating from an ECWA Theological School next year and hope to become a preacher and motivational speaker."
Wonderful learned to be independent. "My parents are poor farmers, I was becoming a burden to them and my siblings so I started helping myself".
"I ride a motorcycle  and by the special grace of God I will drive my car with these two limbs. I pray that I will one day own one, that explains why I haven't learnt to drive yet, I also have a woman in my life who has accepted me this way and I will get married someday."