By Simon Onuorah
ONE of the confirmed truths that all contenders in the November 18, 2017 Anambra Governorship election must respect – whatever their political affiliations – is The Peter Obi Phenomenon. Love him, dislike him or pretend to be indifferent to him, no sane observer can honestly deny that Peter Obi set the real foundation for the multi-sectoral development of Anambra State. Under him, Anambra State became the pride of everybody from the state and among friends of Anambra.
Having been assured during electioneering in 2013 that sustainable development would continue in the spirit of the Anambra Integrated Development Strategy , ANIDS, we supported Peter Obi's successor, Chief Willie Obiano who is currently rounding off his tenure in Government House, Awka.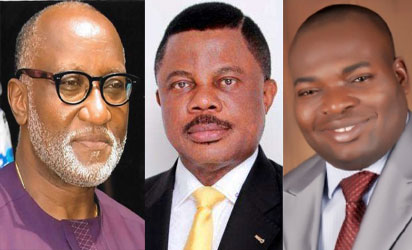 The curious thing about the Obiano tenure was captured by the Governorship aspirant of the All Progressives Congress, APC, Dr. Tony Nwoye.  Dr. Nwoye, then of the PDP, revealed that when Obi sought re-election, he [Nwonye] played anti-party with some other PDP members for Obi to continue because he did well in his first term. In Obiano's case, he continued, he expressed a shame that the outgoing governor has become an irreverent representative of Anambra North.
Governor Obi's legacy in the areas of infrastructural and human capital development, industrialisation, social transformation, security of lives and property, health care delivery, education, agriculture and food security, transport, among others, easily stand him out to this day. Even as the Obiano administration has done everything possible to erase those accomplishments, they remain etched in the minds of the people.
The Church, traditional institutions and the aged, all attest to the fact that Obi was God's response to the developmental yearnings  of Anambrarians.  All the political travails he survived are also pointers that God loves Anambra State. Were it constitutionally feasible, Anambrarians would have willingly extended Peter Obi's tenure.
Obi has since handed over to Willie Obiano who is about to face a re-election. While he tries to hinge his electioneering on nebulous achievements, the people of Anambra have been consistent in asking him to name them in concrete terms. Regrettably, his  attainments in close to four years are the questionable fly-overs in Awka and his N20 million 'Choose Your Project' disbursements to the towns in the state.
The fore-going certainly do not rate as achievements for a serious governor of a vibrant state like Anambra. Summed up, for instance, the N20 million gift to each of the  towns cannot pay for the construction of one major road in the state. In a classic subterfuge  to claim he had done something for each of the towns, the N20 million at best was used to complete small, on-going town projects and to spray-paint already completed projects.
With his dismal performance, the people of Anambra State insist that the baton must change hands. Compelled by equity and justice, all seem to agree that though the people no longer want Obiano, a person from the North should be allowed another 4-year term. Interestingly, the people of Anambra North acknowledge that if Obiano is given another four years in office, one of the consequences of his compounded failures is that he would be used to judge the people from the zone, which would be a permanent slur on them.
In this light, Anambra North needs a responsible and tested hand to redeem them from the shame wrought by Obiano. What should agitate the average voter is who in this throng possesses the relevant academic qualifications, managerial skills, experience, capacity and ability to marshal out social and economic policies and programmes that can improve on, or at least, preserve the sterling legacies of Governor Obi.
To achieve  this, Anambra does not need a maverick politician who would be too bogged down with party politics and intrigues that will leave him little or no time to attend to critical state matters. Peter Obi's success derived mainly from the incontrovertible reality that while his contemporaries plotted and contrived how to bamboozle their ways through the next election, he was determined to let his projects campaign for him.
This option paid off handsomely. I recall an incident in my village in January 2010 when a politician was trying to convince an old man to vote for a particular candidate. The octogenarian calmly replied: "I have heard all you said about this your man but let us finish with this young man (referring to Governor Obi) who gave us drinking water, renovated our school and is constructing our only road.  After that, you can then bring that your man who will distribute "aeroplanes" to everybody in the land".
Of all the front-runners in the November 18 governorship race, the only candidate really qualified to take over from Governor Obiano and correct his mal-administration is  Mr. Oseloka Obaze. I personally followed his roles as the Secretary to the State Government and I am convinced that he has the capacity to deliver good governance to the people. In terms of track record and  rich experience in the management of human and material resources coupled with the requisite educational background, Obaze is the man.
Going through Obaze's Curriculum Vitae, CV, there is no doubt it is the richest among those contesting for the governorship position.  However, some of us – knowing that a rich CV is not all it takes, as we painfully discovered in the case of  Willie Obiano – have also seen Obaze in action. We observed his performance as SSG and as head of many critical committees in the Obi administration, and how he delivered beyond the call of duty. We have also heard a lot about him from his colleagues in the United Nations system and those who served with him in the Government of Anambra State. All the evidences point to a man who is principled, ready to serve with sincerity of purpose and contented.
Under the Obiano administration – with a collection of over 1,000 'Aides' — Anambra has been fast losing it. How do we explain that we are now associated with drinking orgies, propagation of falsehoods, lack of accountability, descent from a financial buoyancy to a debt-ridden status, among other debilitating features?
In our sustained interests, we need a man of vision who will cleanse and restore our self-esteem as a people. Mr. Oseloka Obaze is that man.