Cambodian Prime Minister Hun Sen said opposition leaders Kem Sokha and Sam Rainsy would have been killed if he had known they were calling on supporters to "prepare for a new government" during post-election protests in 2013.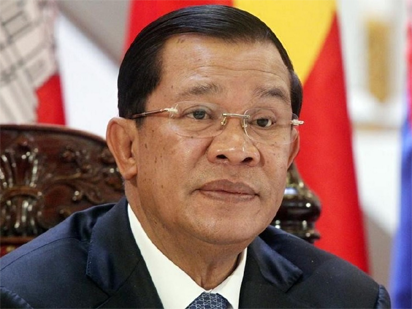 The prime minister made the comments in a speech to garment manufacturers on Sunday, but his remarks only came to light in local media reports on Thirsday after a clip was released.
The Phnom Penh Post reported that Hun Sen referred to a four-year-old video of the opposition leaders calling on supporters to "prepare" for the Cambodia National Rescue Party (CNRP) to "organise a new government."
"If I had seen that at the time, they would already be dead; it would be their funeral," the newspaper reported Hun Sen as saying in his speech.
"They are lucky that I missed it. If I had watched that clip on the day they announced that, a few hours later, I would have attacked them from all sides at once."
The opposition organised a series of mass protests in the months following the 2013 elections, in which the CNRP surprised the government by coming close to victory inspite of allegations of voting irregularities.
In recent months, the ruling CPP has claimed the demonstrations were part of a so-called "colour revolution" backed by foreign powers to overthrow the government.
In response, the Supreme Court on Nov. 14 dissolved the CNRP.
Sokha is being held in jail accused of treason, while Rainsy is in exile abroad.
Subscribe for latest Videos