By Rose Moses
He calls them 'My People, My People' and in return, they call him 'My Governor, My Governor.' That is the spirit of camaraderie that exists between Governor Rochas Okorocha of Imo State and a good number of the people he governs. Or so it would appear to a visitor and also at the grassroots.
Watching him at any gathering, or during one of his numerous roadside stops to interact with ordinary folks in the state, the impression would be: Here is a man so loved by his people and who easily connects with their hopes and aspirations.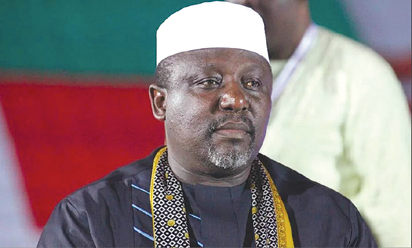 But that is before you start reading from both traditional and social media. 'Rochas is a tyrant, he rules with iron hand and is fond of grabbing all available spaces and property in the state for personal and family use,' is the picture often painted of him in the media and in other circles.
And of recent, he has been in the news for all the wrong reasons. The demolition of Ekeukwu Owere Market on August 26 remains one incident most Owerri indigenes will forever demonise the state governor for.
The recent erection of statues and conferment of chieftaincy titles on leaders of some African countries are yet another of the governor's actions attracting for him negative publicity both within and outside the state.
But in all of these, Gov Okorocha appears unfazed and stays focused to his 'rescue mission,' he tells you at all times.
Fact, however, is that on the heels of the demolition of Ekeukwu Owere, situated along Douglas Road and adjoining streets, were cries of horror and outrage, more so when the process claimed the life of a young boy, Somtochukwu, said to have been struck by a stray bullet.
No one till date is sure of who fired the fatal shot. But traders, who believe it was by security officials brought in by government to destroy their shops and means of livelihood, were enraged.
All that is now history. The market has been leveled, the traders left with the option of accepting government's offer of relocating them to other markets where thousands of shops are said to have been built for them.
But just when you think the controversies are dying down, it would seem another is waiting for 'My Governor, My Governor,' all of which, he claims to be sponsored by opposition in the state.
However, there is more to Okorocha than the negative publicities. Besides statues of foreign leaders, Gov Okorocha is also erecting more solid structures in Imo state.
With about one and a half years left for him in Douglas House, he will no doubt be leaving behind some remarkable landmarks. Whichever way you choose to view Gov Okorocha, what will not be taken away from him are the prestigious mansions, great edifices and government institutions he will be leaving behind and which his successors may find hard to match or exceed.
According to the governor in a recent chat, he has turned Imo State into a huge construction camp. The fact that the landscape of Imo State before May 29, 2011 when he assumed office was nothing compared to the present day Imo, to a large extent, gives credence to the statement.
And to further justify his claim, the governor shows off the new Imo Government House, which going by structure, interior and exterior décor, could confidently stand beside some great architectural works we may know or have heard of.
When privileged to take a tour of the building, one cannot but agree with the governor that it is one of the best Government Houses in the country.
In climes where politicians do not bicker, demonize or deny achievements of their predecessors, no matter how little, it would be unlikely that future occupants of such mansion would feel the need to build another Government House in the next 100 years, if properly maintained.
The Government House Chapel is also another stunning architectural beauty with incredible finishing, just like the massive Eastern Palms University. Although there are question marks around ownership of the university, the world-class structure with all the attractions and splendor of any modern university is a sight to behold in Ogboko, Ideato South LGA of Imo State. So also is the imposing Government House clinic.
All over the Imo State capital are signs of city upgrades depicting a forward-looking vision for Owerri.
While the Ikemba Ojukwu Centre easily passes as masterpiece of architectural aesthetics, the Heroes Square is one of the best event centres in the South East cherished more for lifting the pressure off Dan Anyiam Stadium, where huge events were held before now and affecting negatively on the pitch and entire facility.
The Odenigbo Presidential Guest House, the impressive Traditional Parliament, designed to accommodate traditional rulers of more than 600 autonomous communities in the State; the Eze Imo office and palace are all impressive structures and proof of government's respect for the traditional institution.
And the governor will not leave out the massive construction work going on at the Imo International Airport for purposes of expanding the airport, designed as a regional cargo terminal to serve the South-East and the South-South.
All these, among other efforts by government to attract investors, are geared towards improving the profile of Owerri from a relaxed civil service town to a commercial city, beyond erection of statues of foreign leaders.