By Nwafor Sunday
The National Coordinator APGA Media Warriors Forum, Evang Chinedu Obigwe, Monday advised Oseloka Obaze of the Peoples Democratic Party, PDP and Tony Nwoye of All Progressives Congress, APC, the two major contenders and perhaps losers of the just concluded Anambra gubernatorial election to accept defeat and congratulate the winner, Chief Willie Obiano of All Progressives Grand Alliance, APGA for his merited re-election by Ndi Anambra.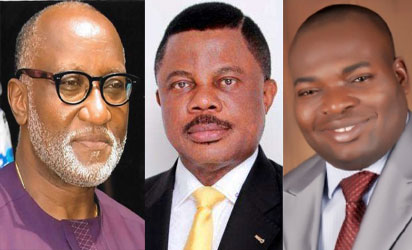 Obigwe made the call while commending Ndi Anambra for their wise choice, sacrifice and vigilance during the election, noting that Obiano's landslide victory was merited and well deserved.
He also lauded President Muhammadu Buhari for fulfilling his promise of making the election free and fair.
In a press release issued to newsmen on Monday morning, Obigwe said that the action of Mr. President will go a long way in deepening Nigeria nascent democracy.
Read parts of his release:
"My advice to Tony Nwoye and Oseloka Obaze is to honorably accept defeat, congratulate Governor Obiano and throw in the towel.
"The Governor's of Plateau, Kaduna, Bauchi and Ondo that relocated to Anambra State two days before the election to deliver Tony Nwoye, APC Governorship candidate, have been thought a bitter political lesson by the vigilant Anambra electorates.
"If any of the candidates that lost the election decides to challenge Anambra electorate's decision of re-electing Governor Obiano for a merited second term in Court, the person should bear in mind that the electorates that voted for him are prepared to defend their votes for the Governor at the Court", he said.
Obigwe reminded Governor Obiano's opponents of his famous quote that 'the blood that binds us together is thicker than the politics that separates us' and advised them to accept the olive branch extended to them by the Governor for the good of the State.
"No doubt that the massive vote garnered by Governor Obiano from Ndi Anambra in the just concluded election will spur him to double his performance for the people of the State", he finally said.