President Buhari congratulates Ondo State Governor Rotimi Akeredolu on his first NEC meeting during the All Progressive Congress (APC) National Executive Congress Meeting at the APC Headquarters Abuja on 31st Oct 2017
By Clifford Ndujihe, Dapo Akinrefon, Charles Kumolu, Johnbosco Agbakwuru & Omeiza Ajayi
.President to appoint new ministers, others soon
•He has not done enough — Junaid Mohammed
•They have endorsed failure —PDP
Some governors on the platform of All  Progressives Congress, APC, yesterday, rooted for automatic ticket for President Muhammadu Buhari for 2019 presidential election.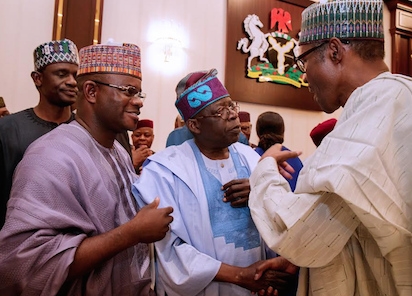 The governors, who spoke on the sidelines of the party's National Executive Committee, NEC, meeting in Abuja, included chairman of APC Governors Forum, Rochas Okorocha of Imo State; Tanko Al-Makura of Nasarawa State; Atiku Bagudu of Kebbi State and their counterpart in Plateau, Simon Lalong.
This came as the National Executive Committee, NEC, of the party in Abuja, yesterday, deferred an 'informal' motion to endorse an automatic second term ticket for the President.
Speaking with journalists before the NEC meeting started, Nasarawa State governor, Umar Tanko Al-Makura, said for now, there is no better candidate than the incumbent President, who he described as the most impeccable man that could be found around.
He said: "The tone for this meeting has been set since yesterday (Monday) when we had the caucus meeting… You see, APC as a party, epitomises democracy. For anybody to pre-empt the consensus opinion of the people is to say the least unfair to the vision of our party.
''I can tell you if there is anything that is clandestine, the President will not honour it, so let us wait and see. As we embark on these meetings, I believe the consensus and the preponderance of opinions of all party members will be what is good for this country, and we have already known the will of God for this country.
"The future of this country as we are now, is associated with one person who is impeccable, who has the greatest amount of integrity that you can find in any human being around, so your guess is as good as mine."
On his part, Kebbi State governor, Atiku Bagudu, said the performance of the President in the over two years he had been in the saddle, is something that will work in his favour ahead of the next general elections.
The governor said he will throw his support behind the President should he decide to take another shot at the office.
"Everyone believes two things about Mr. President. He is very, very sincere in his views and he has his own style of doing things.
"I think for APC members, it is a democratic party, but the performance of the President in the last two and half years suggests that if he wants to contest, l will certainly support him and l know that our party members feel the same about him," he declared.
Speaking in a similar vein, Plateau State governor, Simon Lalong, said the party has no choice than to field the President for the 2019 elections.
He said:  "Concerning the issue of a sole ticket for Mr President, I want to say that if Mr President is performing, well-respected and carrying everybody along, all of us have resolved that we will work for him.
"Do we have any other person that will challenge the President again? Whatever you call it, as far as we are concerned, we have one President and that is the ticket we will fly."
I won't run if Buhari runs — Okorocha
Similarly, chairman of APC Governors Forum and governor of Imo State, Rochas Okorocha, said the only condition that would make him not indicate interest to run for the Presidency was if President Buhari was running.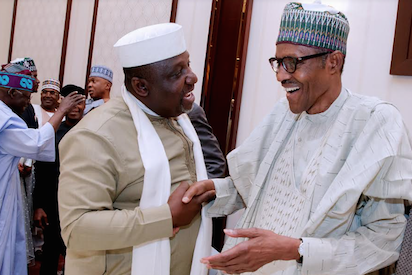 "No, my President is very democratic. If Mr President wants to run for election, he will follow all the processes and if he is the person, we will all support him.
"In APC, there is no imposition of candidates. If Buhari is running, I will allow that man to continue but if he is not running, I …", he stopped halfway, laughing.
On concerns that Buhari's administration was made up of elements of the opposition Peoples Democratic Party, PDP, Okorocha, said the trend had to change.
He said:  "It is not that PDP people are running this government but that they are the ones with the major plum jobs which if it were the PDP, they would not have allowed it one bit and they are getting fattened and ready to fight us politically.
"Remember, your political enemy cannot love you politically. So, we must address our issues and make sure that everything is working smoothly and that the APC people hold great positions on the boards to give them confidence and a sense of belonging. That is what we are asking for."
NEC defers motion to endorse Buhari
Meanwhile, the National Executive Committee, NEC, of the party, yesterday, deferred an 'informal' motion to endorse an automatic second term ticket for President Buhari.
NEC, however, passed a vote of confidence on the President as well as Chief John Odigie-Oyegun-led National Working Committee, NWC, saying both men had done well.
Briefing journalists at the end of the meeting which lasted  about two and half hours, Speaker of the House of Representatives, Yakubu Dogara, said the issue of 2019 was not on the agenda of the NEC meeting.
"Today's meeting was not about 2019 elections. When we talk about 2019 in the context of the agenda you saw, we are talking about membership registration, the drive for membership and others.
''We are not talking about elections. Even though there was a motion on the floor that called for a vote of confidence on the President, some of us felt it was not necessary because there is nowhere that his confidence is shaking. But the motion was taken and passed.
"But there was a second leg to that motion which called for the adoption of the candidature of the President, but it was deferred for now and no decision was taken because that is not the major reason we were here," he said.
Informal motion moved to endorse Buhari — Abdullahi
National Publicity Secretary of the Party, Mallam Bolaji Abdullahi, who was in company of the speaker, said the motion for a second term endorsement was informally moved by an 'anonymous' member of NEC.
He said:  "The motion that was put was after the Minister of Agriculture, Chief Audu Ogbeh, had briefed NEC about  activities and achievements of his ministry. One of the NEC members said we should move a motion passing a vote of confidence on Mr. President. ''There was no formal motion moved on the issue of second term for Mr. President. Somebody in the crowd shouted that we should move a motion and we don't even know that member.
"But the motion that was formally moved was that NEC should pass a vote of confidence on Mr. President and that was after the brief given by the Minister of Agriculture, especially when he said that by 2018, Nigeria will have no need to import a single grain of rice. That is the context and I need you to understand that very well."
Abdullahi said the only conversation on 2019 was the activities of the party in 2018, "especially the issue of convention."
"It was agreed that since we have all these activities lined up, including the mini-convention, congresses and elective convention, a small team be set up to put dates to these party activities up to 2018.
''There was no discussion about election of 2019 or who will be the party flag bearer. The committee will decide when all these activities will take place," he said.
On the national convention, Dogara said:  "There was paper on the line of activities that the party is meant to embark upon. There wasn't a definitive and conclusive date on the party convention because it is something in the works and judging from yesterday's (Monday) meeting, I understand that the party will fine-tune this and then there will be another round of meeting where the specifics and details will be approved."
Buhari to appoint  new ministers soon
Addressing the NEC earlier, President Muhammadu Buhari regretted the slow pace of his government, particularly as it relates to appointments, promising to change the situation now that the economy was buoyant enough to sustain the system.
The President, who also  stated his resolve to expand the "compressed" Federal Executive Council, FEC, said the country is now creditworthy, while the economy continues to grow in leaps and bounds.
He said: "Last year, I said we would re-constitute the boards of parastatals. I must regret the fact that we have not done so for many reasons.
"Some of us in this meeting may know I had given instructions since October 2015 for this exercise to start but there have been inordinate delays through several committees in an attempt to get the balance right and to make sure all parts of the country are equitably represented.
"On the other hand, I am keenly aware that our supporters are very eager for these appointments to be announced. By the Grace of God, these appointments will be announced soon, especially now that the economy is improving, we will have the resources to cater for the appointees.
"By the same token, the compressed Federal Executive Council, FEC, will be expanded to bring in more supporters at the federal level, with fresh ideas to be injected into the government."
It's easier to  manage failure
On rising tensions within the party, President Buhari thanked its National Chairman, Chief John Odigie-Oyegun, noting that it was sometimes easier to manage failure than success.
"I would like to start by commending our party leadership, chaired by Chief John Oyegun. The chairman and I worked harmoniously during 1984-85 in a previous government. Happily, circumstances have brought us again to positions of leadership in the country.
"I want to thank Chief Oyegun and his staff for steering the party in the last two and a half years. Sometimes, it is easier to manage failure than to manage success — and a big success such as that we have achieved," the President said. Buhari also commended the leadership of the National Assembly who he said had risen above the foibles of partisanship in a bid to ensure the progress of the country.
He said: "I must also commend the leadership of the National Assembly, led by Senate President, Dr. Abubakar Bukola Saraki, and Speaker, Mr. Yakubu Dogara. I must place on record the co-operation and understanding of the National Assembly, including some non-APC members who rose above petty party interests and acted in the national interest.
"My deep thanks also go to our state governors who faced stiff challenges, especially their determination to maintain unity and tolerance among our communities. This is in the face of unnecessary, politically motivated strife and violence. Credit should go to APC governors for extending their hands of fellowship to their colleagues from other parties."
We all know  there is  change
According to the President, every Nigerian now knows that there is "change" in the country and that his administration has made giant strides in several spheres of national endeavour. We can be proud of our achievements in the last two years, Boko Haram, Niger Delta, Regular Fuel, Improved Power, TSA, Agriculture and Fertilizer, above all, the knowledge that corruption will not be tolerated in this Government. We all know there is Change.
"Nigeria's prestige has gone up, Nigeria is now creditworthy, a clear testimony of which was the over-subscription of the Euro-Bond by four times," he boasted.
Drama
Before the meeting, a mild drama ensued at the entrance gate to the national secretariat as the presidential guards, who had taken over the entire premises and adjoining streets, insisted that the governors should be dropped at the gate and walk in on foot.
However, there was a shouting bout between the guards and security aides attached to Governor Yahaya Bello of Kogi State who was the first to arrive.
Chairman of the Nigeria Governors Forum, Abdulaziz Yari was also furious that his colleagues were asked to walk into the secretariat, insisting that they be allowed to be driven in, while their cars would later be taken out, but the head of the presidential security team insisted that "it will not work that way."
Among those who attended the NEC meeting were Governors Yahaya Bello (Kogi), Jibrilla Bindo (Adamawa), Godwin Obaseki (Edo), Simon Lalong (Plateau), Tanko Almakura (Nasarawa), Ibikunle Amosun (Ogun), Abdullahi Umar Ganduje (Kano), Abdulaziz Yari (Zamfara) and Nasir elRufai (Kaduna).
Others include Atiku Bagudu (Kebbi), Rochas Okorocha (Imo), Rotimi Akeredolu (Ondo), Mohammed Badaru Abubakar (Jigawa), Abubakar Sani Bello (Niger), Mohammed Abubakar (Bauchi), Samuel Ortom (Benue), Kashim Shettima (Borno), Aminu Waziri Tambuwal (Sokoto), Aminu Bello Masari (Katsina) and Abiola Ajimobi (Oyo).
Senators present at the meeting included Senate President, Bukola Saraki, Senate Leader, Senator Ahmed Lawan, Senate Minority Whip, Francis Alimikhena, Senators Abdullahi Adamu, Binta Masi Garba, Andy Uba, Magnus Abe, Dino Melaye, Ahmed Sani Yerima, Gbenga Ashafa and Barnabas Gemade.
From the House of Representatives came Speaker Yakubu Dogara, Deputy Speaker, Yusuf Lasun, House Leader Femi Gbajabiamila, Majority Whip, Ado Doguwa among others.
Pioneer National Chairman of the party, Chief Bisi Akande, Minister of Agriculture, Chief Audu Ogbe, Federal Capital Territory FCT Minister, Mohammed Bello and Special Adviser to the Vice President on Political Matters, Sen. Femi Ojudu were also in attendance.
APC has adopted  failure — PDP
But reacting to the President's adoption for a second term by some APC governors, yesterday, the opposition Peoples Democratic Party, PDP, said it received the news with excitement because the governors ''have adopted failure.''
National Publicity Secretary of the party, Prince Dayo Adeyeye, told Vanguard on phone: ''They have adopted failure. How can they sell President Buhari to Nigerians in 2019? Before the 2015 election, Buhari was touted as an anti-corruption crusader and security expert, who would fight corruption and ensure security of lives and properties but he has failed.
"The adoption is a welcome development for us because it will give us an easy target to defeat him in the election. There is no way anybody can sell him to Nigerians. If truly the APC governors adopted him, then they are insensitive to the sufferings of Nigerians and have reached the end of the road. We are ready for Buhari. In fact, we are ready for anybody the APC will put forward for the election because collectively as a party, they have failed.''
Buhari has not  done enough  —Junaid Mohammed
In his reaction, a Second Republic politician, Dr Junaid Mohammed, said Buhari has not done enough to be allowed to stand election for the second time.
Mohammed said: "I am not a member of the APC or PDP. I am also not a member of the registered parties. In democracy, there must be the rule of law; also, a democratic dispensation must also be based on rational basis and not on sentiments.
''As far as I am concerned, any leader who stands to be elected in any democratic dispensation is putting himself forward and if performance were considered enough, then I think in all fairness, nobody can say Buhari has performed to be allowed to contest elections by his party and to be elected by Nigerians.
"As far as I am concerned, if Buhari does well, it must be on the basis of assessment and not based on religion, ethnicity or a political party, I don't think he (Buhari) has done enough and I don't think he should be allowed to stand a second time in this country."