By Ola Ajayi
Ibadan—Doctors at the University College Hospital, UCH, Ibadan, have expressed worry over incessant strikes in the health sector which often put innocent patients' lives at risk.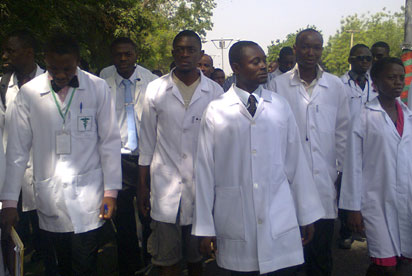 The doctors who are mainly consultants said something must be done to stop what it called unbridled unionism in the sector.
Speaking under the aegis of the Medical and Dental Consultants Association of Nigeria, MDCAN, the medical practitioners through its General Secretary, Dr. Olushola Ibiyemi said, the Nigerian populace has suffered enough due to strikes and the health sector must desist from adding to their burden.
The association made particular reference to alleged assault on its members by members of JOHESU last month when they embarked on strike.
While condemning the strike and vowing never to tolerate any further assault on its members, it noted that it was wrong for JOHESU members to lock up offices and refuse to submit the keys of vital places in the hospital to the management.
"When some management staff attempted to retrieve some keys in order to ensure access to certain vital areas on the premises, they were  manhandled and held hostage, an incident that unfortunately brought to memory similar circumstances that led to the murder of a former CMD in Nigeria, Prof. Bandipo of blessed memory.
"Worldwide, hospitals represent a place of refuge and it is, therefore, unfortunate that health workers who should know better will desecrate these corridors of sanctuary", the association said further.
MDCAN stressed that in as much as it would not erode inalienable the right of any worker to participate in a strike, "it is absolutely uncalled for to endanger the lives of others", adding, "we wish to state categorically that assault on any of our members shall no longer be tolerated and shall henceforth be met with  resistance and if need be, be prosecuted to the fullest"