Petroleum Tanker Drivers' branch  of the National Union of Petroleum and Natural Gas, (NUPENG), weekend declared its support for the Group Managing Director of the Nigerian National Petroleum Corporation, NNPC, Dr Maikanti Baru for reviving the depots owned by the Corporation which have been abandoned across the country.
National Chairman of the union, Comrade Salmon Oladiti in a statement said that "private individuals who were not comfortable with the refurbishment of the NNPC depots and were smarting to buy the national assets and ultimately turn them to private depots were behind the orchestrated plot to paint the GMD, NNPC in bad light in the eyes of President Buhari".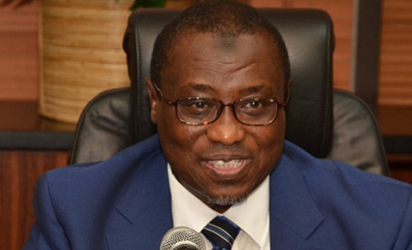 According to the union, "Before Dr Baru came on board, Petroleum marketers and other stakeholders were told that the depots were decrepit  and could no longer function.
Since Dr Baru assumed office as GMD, NNPC, he directed that all these depots are national assets and must be made to work. Nigerians can all see that he has started bringing them to life again. On Wednesday, he was in Ibadan depot and the depot is alive now.
He started from Ejigbo depot in Lagos, that depot and the one in Aba are loading now, Mosimi depot in Ogun state is also loading now. ''As we speak, Kano is loading and Baru said he will soon re-commission Ilorin depot.
He has said that before the end of the year, he will make sure that he makes Ore depot and Enugu depots functional again. Now, our members can lift petroleum products with ease at depots owned by NNPC in their respective states without coming long distance to Lagos to experience the trauma of traffic congestion and harassment by security agents and area boys".
Oladiti expressed concern that the relief being enjoyed by his members who have to travel long distance across the country to load petroleum products at private depots in Lagos were about to be aborted by those he called  the anti-Baru elements in the strategic but volatile industry.
It will be recalled the Minister of State for Petroleum, Dr Ibe Kachikwu, had in a letter addressed to President Muhammadu Buhari accused Dr Baru of deliberate violation of due process in the award of contracts in the Corporation.
The Tanker Drivers union however dismissed the allegation as diversionary and deeply political and warned against "unnecessary politicization and promotion of certain entrenched interests in the oil industry, both in the upstream and downstream sectors, to the detriment of  the nation".
The union declared that individuals who were not comfortable with certain monumental achievements of the NNPC GMD have been working to create confusion in the industry to ensure that Baru was sacked from office.