BY HENRY UMORU
THE Nigerian National Petroleum Corporation, NNPC,   Group Managing Director, GMD, Mr. Maikanti Baru, is in the eye of the storm. This may probably not be the best of times for the Jama'are, Bauchi-born oil manager.
But after meeting with President Muhammadu Buhari last Friday, it is expected that the icy tension generated by the leaked confidential memo written by his boss, Dr. Ibe Kachikwu, Minister of State for Petroleum Resources, would thaw.
Penultimate week, when Sunday Vanguard contacted the Senate, through its Chairman on Public Procurement, Senator Joshua Dariye, APC, Plateau Central, information made available suggested that it would carry out a holistic investigation into the proposed NNPC award of the Engineering, Procurement and Construction (EPC) contracts   of Ajaokuta- Kaduna-Kano(AKK) Gas Pipeline, totalling $2.317 billion (N834.12 billion), to the highest bidders once it discovered that due process was breached.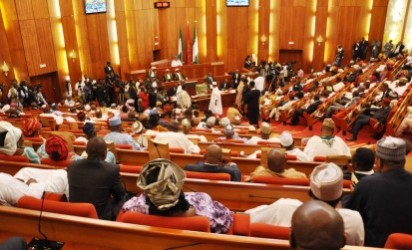 Senator Dariye spoke when Sunday Vanguard sought the position of the Senate on the letter from the NNPC seeking the BPPs   Certificate of No   Objection to enable the corporation   obtain the Federal Executive Council's approval to award the EPC   of Ajaokuta- Kaduna-Kano(AKK) Gas Pipeline   contract to the three most competitive   tenderers of the negotiated lump sum price as follows: Lol Ajaokuta TGS KP O – Abuja 200 length 200 km of a negotiated Lump sum of USD 727,250,000 and additional sum of USD 50,907,500 only for project Management and Engineering Consultancy Services and 2 years spare parts amounting to the total price of USD778,157,500 to cover the payment for Customs Duty, factory Acceptance Test and Training of Operation and main-tenance staff, Engineers Expenses and contingency for unforeseen works. (Lot2: Abuja TGS KP200- Kaduna KP 393, total length 193 km of a negotiated Lump Sum price of USD 710,150,000.00 and additional sum of USD 49,710,500."
At that time, Sunday Vanguard was merely chasing a scoop. But the real trouble started on Tuesday last week when the Minister of State for Petroleum Resources, stirred a hornet's nest in a letter to President Buhari, where he accused   Mr. Baru, of insubordination, and called for the cancellation of the recent appointments in the NNPC.
Kachikwu, who noted that he had been bellyaching for over one year, said that he could no longer pretend, having tolerated what he described as the disrespectful and humiliating conducts of the Group Managing Director on his office, hence it became very imperative for him to write his boss, President Buhari.
Barely twenty fours after the letter was published in the newspapers and, disturbed by the brewing scandal in the NNPC and the face-off between Dr. Kachikwu and Mr. Baru, the Senate on Wednesday launched a probe into the finances, activities and recent controversial appointments in the corporation.
As part of its trouble-shooting mission and getting a true picture of what happened, when it happened, why it happened and how it happened, the Senate raised a   nine-man committee   to investigate Kachikwu's call for the cancellation of recent appointments in the NNPC as well as investigation of the finances and activities of the NNPC.
The committee is headed by former governor of Sokoto State, Senator Aliyu Wamakko, APC, Sokoto North, with Senators Bassey Albert Akpan, PDP, Akwa Ibom North East; Tayo Alasoadura, APC, Ondo Central; Kabir Marafa, APC, Zamfara Central; Samuel Anyanwu, PDP, Imo East; Ahmed Ogembe, PDP, Kogi Central; Rose Oko, PDP, Cross River North; Chukwuka Utazi, PDP, Enugu North; and Baba Kaka Garba, APC, Borno Central, as members.
The decision to probe the allegations raised by Kachikwu against Baru was sequel to an additional prayer by Senator Kabir Marafa, APC, Zamfara Central during deliberation on a motion by Senator Samuel Anyanwu, PDP, Imo East titled: "Allegation of Corruption against NNPC Trading: Time to conduct a holistic investigation," which called for the raising of an ad-hoc committee to ''investigate the policy introduced by the current NNPC Trading Limited."
In supporting Senator Anyanwu's motion, Senator Yusuf Abubakar Yusuf, Taraba Central stated that holistic investigation should go beyond Nigerian National Petroleum Cooperation trading.
In his contribution, Senator Kabir Gaya, APC, Kano South, added that the Senate should set up a Committee to investigate the activities of Nigerian National Petroleum Cooperation trading.
His prayer was seconded by Senator Sunday Ogbuoji, PDP, Ebonyi South.
Earlier in his presentation, Senator Anyanwu had raised a lot of allegations against the NNPC, accusing it of allocating almost all products to an oil firm, Duke Oil and automatic inclusion of   the company in lifting of crude oil and gas among others.
The motion by Senator Anyanwu, which wants a holistic investigation of the NNPC, read in part: "The Senate, aware that NNPC Trading limited is a business creation of the Nigeria National Petroleum Corporation;
"Aware that NNPC Trading is composed of the following outfits, Duke Oil; Hyson/Carlson (JV); NAP Oil (JV); and West Africa-Gas LTD (JV);
"Aware that Duke Oil was incorporated in 1989 in Panama and therefore, does not pay tax in Nigeria;
"Aware also that Duke Oil was specially registered to play a dominant role in the trading of petroleum products especially crude oil trade in the international oil market several years ago;
"Further aware that Duke Oil, compared to other major players in the sector, is still grappling with the basics of what it was registered to do in spite of massive support from the NNPC, owing to large scale corruption;
"Aware of the decision to allocate almost all products to Duke Oil, this is in addition to its automatic inclusion in the lifting of Crude Oil, Gas etc, which thus, made Duke oil a money spinning outfit that is accountable only to NNPC;
"Aware that Duke Oil remains the sole importer of AGO to PPMC and Retail, which it does through third party since it cannot import by itself, this contributes in slowing the growth of our indigenous companies that are making giant strides in the sector;
"Aware that since NNPC owns NNPC Trading Limited and the refineries, they also shortlist companies that get allocation of products, lifting of crude oil and importation of products thus, giving undue advantage to the in-house company, even where it lacks the capacity and requisite requirements to do what it is doing today;
"Also aware of the general lack of transparency and level playing field in favour of Duke Oil to lift products without payment as against its competitors in the sector;
"Further aware that these have combined to make Duke Oil the highest money earner and at the same time, the highest money waster because of the massive corruption in the way and manner they transact business;
"Concerned that this relationship has helped to greatly stifle the growth of indigenous companies operating in the sector;
"Concerned that Duke Oil lacks the requisite credentials to trade internationally, it therefore, makes Duke Oil a giant commission agent only;
"Also, concerned that the net effect of the above arrangement is that, NNPC and by extension, Nigeria earns less than otherwise it would have if the process is open and transparent where products are sold directly to indigenous international oil traders; "Further concerned that money so far earned by NNPC Trading limited through its subsidiaries such   as Duke Oil, remains only in the knowledge of NNPC officials."
Now that the Senate has set up the Committee, Nigerians wait as events unfold and how far the Upper chamber can go in the investigation of the activities of NNPC. Interestingly, President Buhari has also waded into the matter.