WHEN Imo State  governor, Owelle Rochas Okorocha, told TELL magazine that "my vision drives me crazy," many people did not take his words literally. In November 2016, he tweaked the statement a little, this time saying his love for Imo State keeps him from sleeping. "I find it difficult to sleep now because I want to change the entire face of Imo," he said.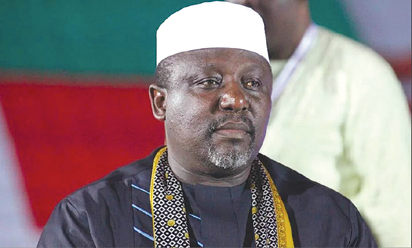 Noble sentiments expected of a leader who means well for his people. But more than six years on the saddle, many Imolites are beginning to wonder whether their governor was speaking metaphorically or literally because his vision for the state (whatever it is) is not only warped, twisted and crazy, but can only be conjured by a mind that is not attuned to reality. It is tunnel vision indeed.
The latest manifestation of such crazy vision is Okorocha's deification of South Africa's President Jacob Zuma in Owerri, Imo State capital, last weekend, when he unveiled a gigantic statue in his honour. Zuma, who flew into the country on Friday, October 13, on what was a "private visit," was on the same day conferred with a traditional chieftaincy title – Ochiagha Imo (Great Warrior) – by Eze Samuel Ohiri, chairman of the state council of traditional rulers. Former President Olusegun Obasanjo issued the title certificate.
On Saturday, a life-sized bronze statue of Zuma standing at over 25 metres and allegedly worth N520 million was unveiled with a road also named after him. It is instructive that on the same Friday that Okorocha's crazy vision was on full display in Imo where civil servants have not been paid for months and pensioners are regularly issued dud cheques, South Africa's Supreme Court of Appeal upheld a ruling that 783 counts of corruption involving a multibillion-dollar arms deal be reinstated against Zuma.
In Zuma's country, there was a sigh of relief. "Finally, after almost a decade of ducking and diving, and squandering millions of rand of public money on his own legal fees, President Jacob Zuma will now face 783 charges of corruption, fraud and racketeering for stealing the people's money," the Mmusi Maimane-led Democratic Alliance (DA), the official opposition to the governing African National Congress (ANC), said in a statement.
The case had dogged Zuma for years and though the charges were dropped just weeks before he took office in 2009, a high court ruled in 2016 that the decision to drop them was irrational. So, why was Zuma, a villain at home, singled out for such honour in Owerri?
Rochas answers: "Today, we have decided to honour you for your love for education, though you were deprived in your early days in life but you are working to make sure that every poor child went to school. Your love for education to us is the connection between you and government and the people of Imo State."
Okorocha's claim throws up more questions than answers. When he claims Zuma is working to ensure that every poor child went to school, the question is, whose poor children is he talking about? How many Imo or Nigerian students are studying on scholarship in South Africa courtesy of the Zuma Foundation or even the South African government? How many dilapidated primary and secondary schools in Imo has the Zuma Foundation rebuilt? What exactly is the nexus between the Okorocha-trumpeted Zuma's "love for education" and Imo people?
No doubt, Okorocha has reduced governance in Imo in the last six and half years to an absurd level but this particular action is beyond the pale.
Governance all over the world is a process driving undertaking. You don't govern a state on impulse. But in Imo, Okorocha's whims and caprices rule the groove. He abhors due process. He has an aversion for record keeping. For him, power and its exercise are matters of indiscretion. In moments of pique, he auctions Imo State without blinking. He has neither conscience nor scruples. For all he cares, he has conquered Imo for eight years and the state is his to plunder.
Doesn't Okorocha know that the man he rolled out the red carpet and pulled all his egregious stunts for last weekend represents all that is wrong with leadership in Africa? Does he not know that Zuma's presidency has been scandal-ridden from allegations of corruption, some already proving in courts, to a lifestyle that is quite unbecoming of a leader of his status?
Last year, a South African Court ruled that Zuma violated the constitution by using $500,000 taken from the public treasury to upgrade his private residence to accommodate his many wives and was ordered to refund the money.
Under Zuma's watch, many Nigerians have been murdered by both the country's security men and citizens. In fact, this honour came a few days after another Nigerian, 35-year-old Jelili Omoyele, was murdered in South Africa. None of the culprits has ever been convicted. Nigerians are routinely harassed in South Africa without a whimper from Zuma.
With this award, Rochas has taken impunity to a contemptible height. Like Zuma, Okorocha represents what ails our country. When late Chinua Achebe says Nigeria's problem is leadership, Okorocha is a quintessential exemplar.
Zuma's visit to Imo was private. He came to sign a memorandum of understanding between his personal foundation, Zuma Foundation, and Rochas Okorocha Foundation. Though that is wrong, strictly speaking, because those foundations should be a matter of blind trust while both men are in office, but it can even be excused if it ended at just two businessmen, who happen to occupy government positions in their respective countries coming together to promote their private businesses.
But public funds were used in promoting this strictly private partnership. The N520 million allegedly used in erecting the statue belongs to Imo people. The money used in hosting the lavish pomp and ceremony was taken from Imo coffers. Was the money appropriated by the Imo State House of Assembly? The answer is no.
Since Okorocha became governor of Imo State on May 29, 2011, there have been  arguments whether there is a  difference between his personal purse and public till. Funding for the Rochas Foundation has been another source of discord. I will not be surprised if the memorandum of understanding Zuma came to sign has to do with Okorocha's private Eastern Palm University, which he admitted recently to have funded with N500 million belonging to Imo people without their authorisation.
That is the level of impunity that Imo people are confronted with. When he turned 55 years recently, it was a month-long celebration with 27 giant cakes. For him, leadership has become puerile theatrics.
As a governor, Okorocha is neither accountable to anybody nor any institution. He has become the god of Imo State, boasting recently that any Imolite who wants to succeed in life must love him because he is the sun that shines for the people. But even absurdity must have its limits. Okorocha has taken this clowning in the name of governance too far.
Ikechukwu Amaechi is the Managing Director/Editor-in-Chief, The Niche newspaper, Ikeja, Lagos, Nigeria.
Subscribe for latest Videos