By Dotun Ibiwoye
THE Emir of Kano, HRH Muhammadu Sanusi II, Obi of Onitsha, HRM Nnaemeka Alfred  Achebe and Amadabo of Ada-Ama, Twon-Brass, HRH Serena Dokubo-Spiff, yesterday, said that the complex and expensive judicial system in operation in the country needs traditional courts and laws to compliment it.
Noting that traditional courts are efficient and corrupt-free, the three first class rulers averred that traditional institution of governance should be seen and recognized as an integral part of the economic development process.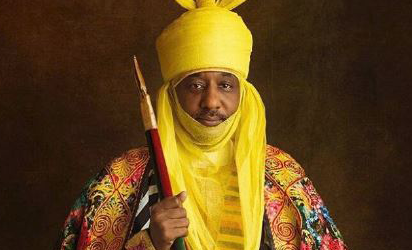 They stated this in Lagos at the Policy Dialogue on Harmonising International and Traditional Conflict Resolution Mechanism for economic Recovery and Growth.
With the theme: ''Institutional Evolution: Impact on the polity and growth of the Nigerian economy'' the dialogue was organised by the Lagos Court of  Arbitration and the Centre for Public Policy Alternatives, CPPA.
Other speakers at the event are Mr Olasuo Shasore, former Attorney General  of Lagos and Prof Melvin Ayogu, Executive MBA director and Visiting professor of Economics, American University of Sharjah.
The Emir of Kano, who was represented by Alhaji Shehu Mohammed, Sarkin Shanun, Kano, said that traditional rulers who have played significant roles in the development of their domains should be given the space to play more roles at all levels in the face of the current national security and economic challenges.
''The arguments for a constitutional provision to accommodate and provide such a space for the traditional institutions to operate within the existing democratic structures certainly have merit. What specific roles should traditional authorities play in the promotion and sustenance of democratic governance?
''There are at least four key roles the traditional institutions, under the leadership of the Emir, should play: Emir as Chief Advisor to the Government,  Traditional Rulers as peace ambassadors as peace is a pre-requisite for orderly development,  and Traditional Rulers as impartial arbitrators.''
The  Obi of Onitsha , HRM Achebe, said the  traditional institution plays key roles in sustaining the society and has the ability to mobilize and enlighten the public about their civic responsibilities.