By Marie-Therese Nanlong
Jos—THE Chief Medical Director, CMD, of Jos University Teaching Hospital, JUTH, Professor Edmund Banwat, has advised resident doctors in the hospital to concentrate on their training, pass their examinations and leave the hospital within the stipulated time to create room for others.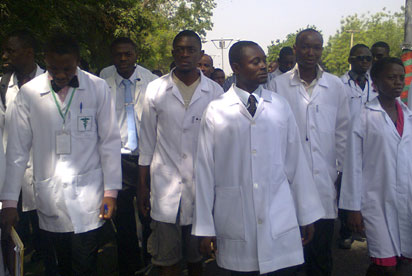 Professor Banwat spoke, yesterday, in Jos on the heels of the recent peaceful protest by the National Association of Resident Doctors, NARD, JUTH chapter, with the doctors saying the protest was to compel the hospital management to obey a National Industrial Court order which asked the CMD to comply fully with the circular issued by the Ministry of Health regarding the Residency Training Programme of doctors.
President of NARD-JUTH, Dr. Paul Agbo, had said the protest was against bad leadership, saying instead of adhering to the court order stopping further sack of doctors, the CMD had continued to sack doctors and withhold their salaries, thus preventing them from continuing with their posting.
However, the CMD in reaction told Vanguard: "This policy is not limited to JUTH. Every resident doctor knows that you have six or seven years to spend.
"The issue of sack is not the word to be used here because they are not our staff. But they are here on training. Once the period elapses, you exit and give room for others to come in."