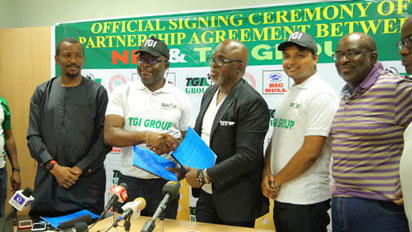 Signed and Sealed…L-R NFF Second Vice president, Shehu Dikko, Onyekachi Onubogu Executive Director TGI Group exchanging the agreement paper with NFF president, Mr. Amaju Pinnick, Chief Finance Officer WACOT Limited, Mr. Sumit Jain and Seyi Akinwunmi, NFF First Vice president at the event.
Nigeria Football Federation presi-dent, Amaju Pinnick has hailed the newly signed partnership agreements with two companies, Tropical General Investments (TGI) Group and Pay Porte.Com for sponsorship of the Super Eagles.
Pinnick said that the partnership with NFF was borne out of the transparent ways his board members handled football affairs so far.
He called on all corporate organizations in Nigeria to support NFF and sporting activities in Nigeria.
Speaking on behalf of NFF board, the second Vice President, Mr. Shehu Dikko, said that Payporte.Com will be the official online store for Super Eagles.
The partnership, which will last for three years, will make TGI Group's products such as Big Bull Rice, CHIVITA, Hollandia Yoghurt and Renew Starch, the official food of the Super Eagles.
The agreement with the PayPorte.Com on the other hand will make the company the official online shop for sales of Eagles' jersey for the next three years.
Executive Director of TGI Group, Mr. Onyekachi Onubogu, noted that football was a unifying factor in Nigeria. Onubogu, who represented the TGI Group Managing Director, Mr. Rahul Savara, said, "we are enormously ecstatic to come on board as supporters of the Nigerian football national teams."
"The sponsorship is a further demonstration of the commitment of our business to the development of Nigeria in all facets.
"We strongly believe in our investments in the Agricultural value chain and its impact on the socio-economic development of Nigeria.
"And this new partnership we are starting with the Nigerian Football Federation will allow us to expand our footprint to the development of football in the country.
"We are resolutely committed to increasing our investments in the Nigerian economy, increasing employment and local content while supporting the communities we operate in," Onubogu said.