By Dapo Akinrefon
LAGOS—The Alaafin of Oyo, Oba Lamidi Adeyemi, has explained why he picked National Coordinator of the Oodua People's Congress, OPC, Otunba Gani Adams, as the 15th Aare Ona Kakanfo designate of Yorubaland, saying it was based on his antecedents in the promotion of Yoruba culture.
The position was held last by the late Chief Moshood Abiola, who died in 1998.
In June this year, there was an indication that Adams could be named the new Generalissimo of Yorubaland by the monarch but the OPC leader refused to confirm or deny the rumour.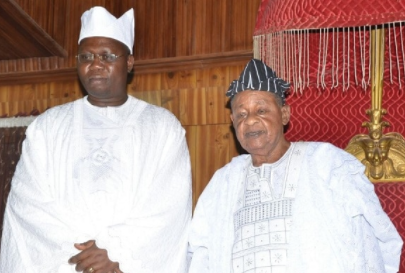 The Oyo monarch said his decision to pick Adams after Abiola's death was based on his vision for the Yoruba nation.
He, however, described Adams as one "equipped by God with the vitality of youth, agility of the long distance runner, unblemished patriotism, and the wisdom of Solomon. His antecedents in the promotion of Yoruba culture are unquestionable, and he has a clear vision of where the Nation should be in its cultural reawakening both at home and overseas."
In a letter titled:  'The making of new Aare Ona Kakanfo of Yorubaland: Aare Ona Kakanfo Proclamation', the Alaafin said:
"Since the demise of Aare Moshood Olawale Kasimawo Abiola there have been numerous appeals, requests, applications, delegations, and agitations from various parts of the Yoruba Nation for the filling of the vacant position.
The position of Are Ona Kakanfo in Yoruba history makes it mandatory for us to hasten slowly, and that is what we have done. Manliness, courage, and patriotic zeal (not political ambition or opportunism), were three virtues respected in Yorubaland, even during the Yoruba warfare in the 19th century.
The Yoruba call heroes Akinkanju, interpreted as brave men and saviours; of their people in times of trouble. In socio-political circumstances, the Akinkanju is considered as vital to his society as the head is vital to the snake.
Announcing Adams as the next holder of the title, he said: "The Aare Ona Kakanfo-designate is Otunba Gani Adams, National Coordinator, OPC, Founder and Promoter of Olokun Festival Organization, and Founder of Odua Progressive Union with active branches in Africa and other countries of the world."
Personal Assistant to Adams, Mr. Segun Akanni, who confirmed the appointment quoted Adams as saying he was honoured to be chosen for such an exalted position in Yorubaland.
Yoruba leaders react
Meanwhile some Yoruba leaders have congratulated the OPC boss saying he deserves the title.
Afenifere chieftain, Chief Ayo Adebanjo, who congratulated Adams, described him as a true Yoruba son.
Adebanjo, however, dismissed claims that people with the title do not end well, adding that it was time for the Yoruba nation to be united and support Adams.
He said: "He should bring the Yoruba nation together. The people of Yorubaland need to be united now more than ever. People who are not on our level of civilisation should not be allowed to dominate us."
Also, founder of the OPC, Dr. Frederick Fasehun, said the Alaafin of Oyo has the right to bestow the title on anyone, adding that "it is an Oyo title. The Alaafin has the right to give it to anybody. The Alaafin can give anybody, whether young or old, altruistic or otherwise. I congratulate him (Adams) and I hope he will behave true to his title."