Ekiti State Governor, Mr Ayodele Fayose has described President Muhammadu Buhari's sack of the suspended Secretary to the Government of the Federation SGF, Babachir Lawal, and the Director General, National Intelligence Agency (NIA), Ayodele Oke as face-saving and an afterthought, noting that; "The President only acted because of the outcry of Nigerians, especially over the fraudulent reinstatement of the former Chairman of the Presidential Task Force on Pension Reforms, Mr Abdullahi Maina."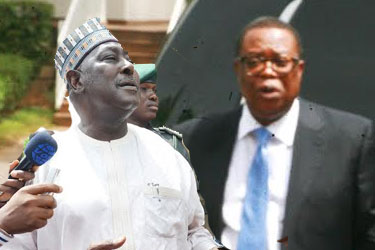 The governor, who said the indicted and sacked SGF, NIA Director General and others still in Buhari's government should be handed over to the Economic and Financial Crimes Commission (EFCC) for thorough investigation and prosecution, added that; "Enough of using probe panels to shield people accused of corruption in Buhari's government. Rather, they should be arrested, detained and prosecuted by the EFCC as being done to others perceived as the President enemies."
He congratulated Nigerians whose resistance force the President to act, saying; "Once again, Nigerians have proved that the power of the president is not greater than that the people who elected him."
Reacting to the President's sack of Lawal and Oke through his Special Assistant on Public Communications and New Media, Lere Olayinka, Governor Fayose said; "What Nigerians expected from a President who rode to power on the basis of integrity is a total cleansing of his government, not setting up panel to investigate corruption allegations involving his men and reluctantly sacking a few of them because of public outcry."
Maintaining that President Buhari was aiding and abetting corruption, the governor said; "As far as I am concerned, sacking the SGF and NIA Director General is just an afterthought and it is not enough. Let them be handed over to the EFCC for prosecution just like other Nigerians that they have accused of corruption.
"Apart from prosecuting the sacked officials, Nigerians are interested in the full details of the report on the $43 million discovered in an apartment at Osbourne Towers, Ikoyi, Lagos. The report should be made public.
"They also want to know what happened to the Minister of State for Petroleum Resources Ibe Kachikwu's allegation of award of $25 billion contracts without following due process against the Group Managing Director (GMD) of the Nigerian National Petroleum Corporation (NNPC); Dr. Maikanti Baru.
"Nigerians are interested in the report of the panel that looked into the Department of State Service (DSS) report that indicted Acting Chairman of EFCC, Ibrahim Magu of corruption. They want to know why the former Chairman of EFCC, Ibrahim Lamorde, who was accused of corruption by the Senate, removed from office unceremoniously and declared wanted is now the Commissioner of Police in charge of the Special Fraud Unit (SFU), Ikoyi, Lagos.
"Also, the people are interested in the rationale behind the appointment of Ahmed Gambo Saleh; the Supreme Court Registrar who was indicted and put on trial for alleged over N2 billion fraud as the Secretary of the National Judicial Council (NJC) and the Corruption and Financial Crime Cases Trial Monitoring Committee.
"Most importantly, Nigerians are not carried away by the sack of Babachir Lawal and Oke. Rather, they want to know what President Buhari has done to those behind the fraudulent reinstatement of Maina since report on the reinstatement was submitted last week Tuesday as directed by the President.
"Not until President Buhari fumigates his own bedroom and rid it of corruption, it will remain in the mindset of the people that President Buhari is aiding and abetting corruption, and only acts when it becomes difficult for him to close his ears to the outcry of Nigerians."