By Gbenga Olarinoye, Osogbo
The 2017 annual Olojo Day festival hestdrday came to a climax in Ile-Ife, Osun, as the Ooni of Ife, Oba Adeyeye Ogunwusi, Ojaja II, put on the historical A are crown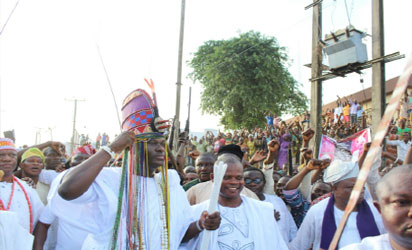 Oba Adeyeye after welcoming and hosting the traditionalists and visitors, left the stage at about 3:15pm, and went into his chamber to put on the 'Aare Crown' which symbolises the climax of the Olojo Day festival celebration.
The Ooni however came out from his chamber at about 5:35 pm, amid cheers and prayers from his subjects, wearing the Aare crown.
He later walked few meters to the 'Oke Mogun' (the spot believed to be the place where the first dawn came into existence) to pray for his subjects, Osun state, Nigeria, his visitors and the entire human race.
The Minister of Health, Prof. Isaac Adewole who was at the event, representing the president, said, the festival would go a long way to promote the culture and tradition of the yoruba people.
He said festivals like the Olojo Festival that attracts international attention, would help to boost the tourism industry, as well as the social-economic development of the country.
The Ooni, while explaining the meaning and significant of the Day, said both men and deities/spirits use the day to worship Olodunmare and that the day was not for the worship of any kind of idol.
He said Olojo means the dawn of creation by God almighty and it is a day of praising God with the prayer for him to open the windows of heaven and pour down his blessings on mankind.
Present at this years' Olojo Day celebration includes; Osun state Deputy Governor, Otunba Titi-laoye Tomori, Sen. Buruji Kashamu, representing Ogun East, Senator Iyiola Omisore, Royal fathers, tourists, traditionalists and residents and indigenes of Ile-Ife.
Subscribe for latest Videos