By Tare Youdeowei
BENIN CITY—HIGH Chief Government Ekpemupolo aka Tompolo's media Consultant and Niger Delta Development Advocate, Comrade Paul Bebenimibo, Thursday, faulted the claim by the Omadino Management Committee that the Nigerian Maritime University was illegally and wrongfully sited at Okerenkoko rather than Okerenghigho, Delta State.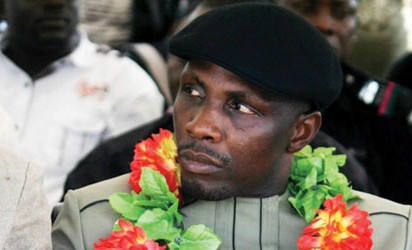 He insisted that the original aborigines of Okerenkoko remains the Ijaws of Gbaramatu Kingdom and there is no single trace of itsekiri "whatsoever in that community."
Bebenimibo was reacting to the call to the House of Representatives Committee, in the on going public hearing with respect to the bill for the law establishing the Nigerian Maritime University, not to name the site of the University Okerenkoko but Okerenghigho, due to what they described as a court judgment which declared Okerenghigho as the authentic name of the site.
However, Comrade Bebenimibo who described the claim as arrant nonsense, explained that "there is no single trace of Itsekiri in Okerenkoko  community. The Itsekiri deliberately adulterated our community's name to suit their interest. And this is not the first time that government is siting project in that community. In 1955 the then government sited a primary school known as Okerenkoko primary school and it has remained so till date.
"The Itsekiri have never argued any day about the name of that school. The so called Omadino community was founded by a Gbaramatu indigene called Oweizibiri and was originally known as Amadino which means community's fish pond. Their claim that they won that particular issue at the Supreme Court is also not true.
"To put the records straight, the Itsekiri, particularly the Ugborodo people went to court again in suit No W/124/76 wherein they claimed certain declaratory and injunctive reliefs, relying on their trumped up history of first settlement. They claimed that all Gbaramatu towns and villages are on their land. Judgment was once again obtained by the Itsekiris and that judgment gave birth to four different appeals at the Appeal Court in Benin City.
¨Gbaramatu people were not part and parcel of the trial of the Ugborodo claims but they applied to be joined in the suit at the Appeal court as interested parties. The contention of the Gbaramatu people was upheld by the Court of Appeal and the judgment obtained by Ugborodo people was consequently set aside and the case remitted back to the high Court for trial de novo.
¨So it is not out of place to state here that the judgment of the Court of Appeal has been appealed by the Ugborodo people at the Supreme Court in suit no SC/612/2015. The legal battle is still on and it would be prejudicial to comment on these cases. So it is sad that Itsekiris are always kicking against projects that will better lots of our people in the Niger Delta. That was how they opposed the siting the of the Delta state capital in Warri and that was why it was moved to Asaba¨ he stated.