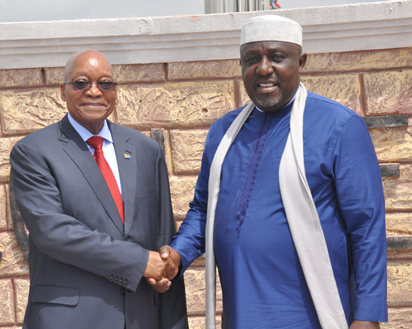 President Jacob Zuma of South-Africa, Governor Rochas Okorocha (1st right), Mrs Jacob Zuma (1st left), and chairman Jacob Zuma foundation Mrs Dudu MYeni when the Jacob Zuma foundation and Rochas foundation college of Africa signed MoU in owerri on Saturday , October 14, 2017.
By Chinonso Alozie
Owerri – The President of South Africa, Jacob Zuma, Sunday, warned that no Nigerian citizen should be killed in any parts of South Africa.
Zuma was quoted to have made the statement, through a release issued to newsmen in Owerri, by the Chief Press Secretary, to Governor Okorocha, Mr. Sam Onwuemeodo, after receiving the Imo merit award and signing of Memoranda of understanding between Zuma foundation and Rochas foundation of Africa.
Also in the release, Zuma said that no South Africa citizen should be killed.
Just as the president, called for stronger partnership between Nigeria and South.
According to the release, "President of South Africa, Mr. Jacob Zuma has said that a South African must not kill a Nigerian and a Nigerian must not kill a South African, adding that the relationship between Nigeria and South Africa should be stronger than any other part, for the sake of the Continent of Africa.
"Africans must come together to address African problems. We are the same people. We cannot succeed if we handle problems as individuals. We need to recognize that we are one.
"I am an ordinary freedom fighter belonging to the African National Congress (ANC). But in 1994, I felt, I have been part of those who have made oppressed people of South Africa to accomplish an important mission of liberating themselves.
"But political freedom without economic freedom is not enough freedom. That is why in our era, we have a government that will begin to make economic laws, because if the economic power is not there, there is very little you can do for the poor and the oppressed.
"Then I have also realized that the time comes for nations to speak the truth, and I'm among those who are speaking the truth now, because the more things they said about me, that are not true, the more stubborn I become in my agitation.
"Don't be dismayed. For these reasons, I stand here being seen as a Hero by the leadership of Imo State in Nigeria and to make me feel empowered that what I say, think and believe in, is correct."
Earlier in his remark, Governor Rochas Okorocha of Imo state, said: "We in Imo State have chosen to identify with this great leader who meant well for his people; who had to toil, struggle and fight for the liberation of his people, not minding the consequences thereafter.
"This to me is courage. This to me is strength of character. Very importantly, Mr. President, you are a man with uncommon history. One who never saw the four walls of a classroom and who in the course of struggling to liberate his people, landed in prison for 10 years and still counting."