By Clifford Ndujihe
ELDER statesman and Chairman of The Patriots, Professor Ben Nwabueze (SAN), yesterday, dissected President Muhammadu Buhari's 57th independence anniversary speech and disagreed with the President that corruption is Nigeria's problem.
According to Nwabueze, Nigeria's problem is the national question, which he fingered as the greatest threat to the country's unity, saying until it is answered corruption will remain insurmountable in the country.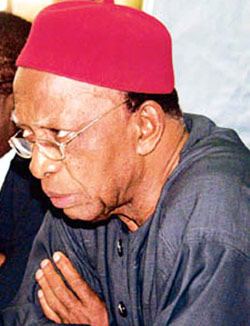 He said: "The national question is concerned with how, while preserving something of their separate identities, the immense number of diverse ethnic groups comprised in the territorial area of the state created with the name Nigeria and forcibly imposed by British colonialism, can be coalesced and united into one nation and how the state so created can order the relations among the constituent groups to facilitate such coalescing.
"That is the essence and the core meaning of the term, National Question."
In his independence anniversary speech, President Buhari had said: "We must fight corruption, which is Nigeria's number one enemy. Our administration is tackling these tasks in earnest."
Disagreeing, Nwabueze, in a statement, said: "The national question has an intimate connection with corruption as a fundamental cause of it.
"The origin of the state in the African continent, as an alien organism planted in the body of Africa by European colonisation, has created in Africans an attitude towards it as belonging, not to them, but to the white colonialists, and that his interest in it is to get as much from it as he could, by any means, largely by corrupt means.
"Thus, corruption, in Nigeria as in other African countries, has its origin, by and large, in attitude ingrained in us towards the state.
This attitude must be uprooted if corruption is ever to be eradicated— what has been called re-structuring of the mind.
"The President, as the elected leader of the people, has the primary duty to mobilise the people for such re-structuring of the mind. For two and a half years, President Buhari has totally failed to acknowledge his duty, much less to take any concrete action to tackle it."