Nigeria international Brown Ideye has been ordered by a Swiss court to pay $225,000 being child support for the son he allegedly fathered while he played for Neuchatel Xamax.
Francisca Errol, who worked as a secretary at Neuchatel Xamax, claimed she gave birth to a son from her romance with Ideye when he started out in Europe between 2008 and 2010, according to British Newspaper, The Sun.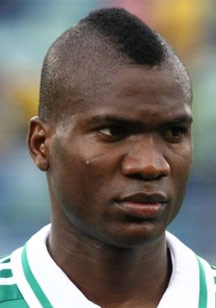 She also alleged that on October 14, 2014, a court in Switzerland ordered Ideye to pay her $225,000 as support for the son, who is now six years old.
Ideye was served this ruling when he was playing in the Premier League with West Bromwich Albion.
He has not appealed against this ruling, preferring to rather ignore it.
"It's shameful that a personality that represents Nigeria all over the world doesn't respect a court decision and abandons his own blood," she told the newspaper.
She has now taken her fight against the 26-year-old Ideye, who is now based in China, to the Nigerian embassy in Switzerland.