By Ikechukwu Nnochiri
ABUJA—Vice President Yemi Osinbajo said, yesterday, that there was need for greater transparency in the award of Federal Government contracts, even as he advocated the establisment of a website where government contracts are published.
Osinbajo, who spoke at a dialogue session he had with a coalition of over 70 Civil Society Oganisations, CSOs, in Nigeria under the eagis of  The Situation Room, said the current practice that mandates the Bureau of Public Procurement, BPP, to ensure that contract bids are pubished in two national dailies, was not enough.
Stressing that the prevailing practice does not only affect "small players," who he said find it difficult to pay the high cost of advertorials, the vice president insisted that having a dedicated and functional website "will be a perfect answer,"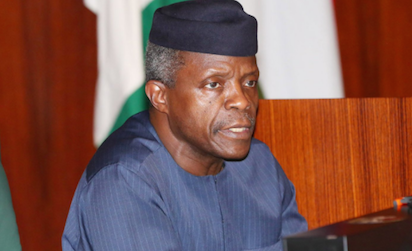 According to Osinbajo, "Generally speaking, what happens with contract is that it goes through a process and must be approved by the President or the Federal Executive Council. That is generally how it is done.
"But I do agree that there is the need for greater transparency with respect to government contracts, such that you have a website where every contract is published.
"Now that is a good thing, but at the moment what we have or the requirement of the law is that every contract that go through the BPP must be advertised in twi national dailies.
"But the constraint of that also is cost. Many agree that it will increase the cost for especially the small players and also increase the cost of contracts because you have to advertise in two dailies.
"I do agree that the website will be a perfect answer. Some may recall that I signed an Executive Order while I was the Acting President, on ensuring that all websites of our Ministries and Parastatals are up".
Meantime, earlier in his opening remarks,  Cordinator of the Situation Room and Executive Director of Policy and Legal Advocacy Center, PLAC, Mr. Clement Nwankwo, said issues of equity, equality and fairness, were at the core of recent agitations in the country.
He said: "Across the country, discontent levels are very high, with cries of marginalisation raging high. This has resulted in calls for 'restructuring' and 'referendum' on the nature of government that Nigerian shoukd have. The Situation Room is not in support of any action that will threaten the unity of Nigeria and condemns actions on the part of citizens and groups that undermines our nation's unity.
"We, however, note that the issues of equity, equality and fairness are at the core of these recent agitations."
"This administration will need to address complaints from aggrieved sections of the country who feel or perceive that they are not being equitably treated by it.
"In addition, the conversations around Restructuring and practice of Federalism which have continued to recur in this country since 1990 will need to happen and be settled for all time, so that Nigeria can move rapidly forward in pursuit of national development.
"However, persons who act contrary to the laws to undermine national peace and unity must be equally held to account and brought to justice irrespective of whatever pary of the country they come from.
"Hate speech and threats against citizens of our different ethnicities and religions, from whatever part of the country they are spewed out from, must be equally confronted and punished as a deterrent and consequence of unacceptable conduct.
"On the economic front, it is important to state that the living conditions of our people have significantly nose-dived especially since this administration took over power from its predecessor on May 29, 2015.
"Agreed, the previous administration set the stage for our economic downturn, with the massive levels of corruption of our people. The pain of economic slide and the deteriorating conditions of living of our people are too high and unacceptable and this government must do much more than it is currently doing.
"The Situation Room supports the efforts of this administration in tackling the scourge of corruption, but believes that much more long-lasting and sustainable steps need to be taken in this regard, particularly by strengthening the institutions that fight corruption and ensuring that their efforts are not ad-hoc and is carried out in line with due process and the rule of law".
Besides, Nwankwo said the Situation Room was concerned about the rising levels of insecurity across the country.
He said: "Increased incidences of kidnapping, the menace of 'cattle' herdsmen and general crime across the country is very worrying and requires national emergency action. The levels of insecurity, significantly accounts for the declining levels of economic investment in the country, even by our own citizens.
"The government and and security agencies must act now and take actiom against marauding murderous 'cattle herdsmen' who have taken over vast lands across all parts of the country and used these lands as stage posts to attack local farmers, killing and perpetrating all sorts of crimes, including the rape of our women and girls and kidnappings".