Lioel Messi  has made a flying start to the season for club and country, assuming the goalscoring mantle at domestic and international level  culminating in his timely hat-trick for Argentina  to secure the Albiceleste's ticket to the 2018 World Cup in Russia.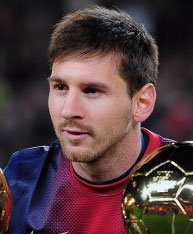 In LaLiga, the Barcelona forward has hit 11 goals in eight games  and he has also added two to his European tally, both scored in the  3-0 defeat of Juventus  in the opening round of Champions League fixtures.
That brace left the Argentinean requiring just one more goal to reach 100 in continental competition. Messi had the opportunity to being up his century when Barcelona visited Sporting Lisbon but failed to find the net in a narrow 1-0 victory, a Sebastián Coates own goal separating the sides in the José Alvalade.
Messi will have another bite of the cherry when Barça welcome Olympiacos to Camp Nou today, in his pursuit of Cristiano Ronaldo, who has scored 112 times in European competition.
The Barcelona forward has hit 96 in the Champions League and three in European Super Cup games over the course of 121 games in total. Ronaldo has played 148 times in continental competitions, racking up 110 goals in the Champions League and two in the European Super Cup.