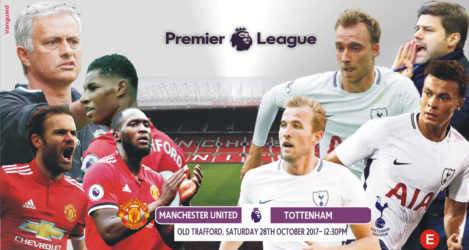 Jose Mourinho's customary safety-first approach against Manchester United's Premier League title rivals will come under the microscope again this weekend.
Will his team sit back and view a point as a decent return, like they did earlier this month at Anfield?
Or will the hosts opt to take the fight to a Tottenham Hotspur side who arrive in wonderful form?
To achieve a positive result, the answer will almost certainly lie somewhere in between.
2016 blueprint
A 1-0 success for Man Utd in last season's corresponding fixture is a good indicator of the strategy that may work best.
That day the hosts were happy to let Mauricio Pochettino's men have 59.9% possession and drop off inside their own half.
This ploy denied Spurs' forwards space. Forced to play in front of them, the north Londoners were limited to just three efforts on goal from inside the area.
Defending was not Man Utd's sole focus though.
When opportunities arose to break on the visitors, primarily through the pace of Henrikh Mkhitaryan and Anthony Martial, the Red Devils were sharp and penetrating.
So even though they adopted tight, counter-attacking tactics, the defensive players did not have to hold firm under spells of relentless pressure. Indeed, Mourinho's men spent slightly longer inside their attacking third than they did at the other end.
The balance was spot on.
Covering the wide areas
Much like their last meeting at Old Trafford, part of the gameplan will be to deny Spurs' full-backs the room to make a difference.
In that fixture United's three-man midfield worked overtime to provide extra cover in wide areas, with the nearest man sliding across to close down Kyle Walker and Danny Rose on the ball.
Chelsea used a similar ploy at Wembley Stadium earlier this season, successfully negating the influence of the full-backs.
This tactic forced Spurs' wide men to sling crosses into the box from deep, or move infield where there was congestion.
As shown in the graphic below, on Spurs' last visit United broke up a stream of attacks in the wide channels.
With this in mind don't be surprised if Mourinho reverts to a three-man central midfield on Saturday.
It will strengthen their spine where danger men Christian Eriksen and Dele Alli tend to roam, as well as provide assistance on the flanks.
Keeping Kane quiet
Taming the in-form Harry Kane won't be easy, but United will focus hard on ensuring he is not allowed to run on to passes played in behind their defence. In those scenarios he has looked deadly in recent weeks.
With this in mind, should Mourinho's men switch to a three-man rearguard?
A quick glance at the teams who have successfully kept Kane at bay this term suggests he finds it tougher against back threes.
Chelsea, Swansea City and AFC Bournemouth all coped well with Kane using that shape, which in theory should limit the opportunities he has to sprint clear down the sides of central defenders; a favourite run of his.
From a tactical perspective Mourinho has plenty to ponder ahead of kick-off.
Sitting deep for 90 minutes and playing for a draw is not acceptable on home turf, but don't be surprised if the Portuguese comes up with a plan designed to stop Spurs in their tracks.
He may even consider trying to match them up in a 3-1-4-2.
Whatever system he chooses, this is a match the hosts should be looking to win, despite Spurs' outstanding form.
If they are to contend for this season's Premier League title United must take three points off some of their main rivals, so these home encounters will be critical to their prospects.
On the back of a chastening loss to Huddersfield Town, I expect a purposeful and positive response.
Culled from premierleague.com