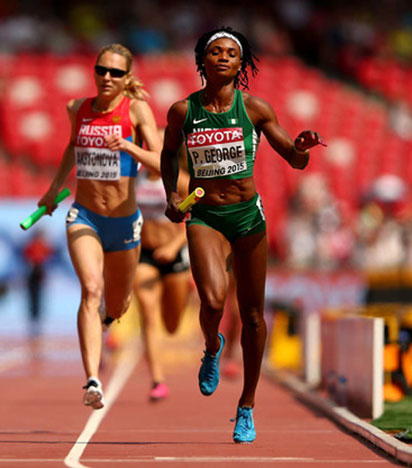 Running on Empty…Nigeria quatermiler, Patience Okon-George taking on the world with little or no support.
By Ben Efe
Pained by their chaotic outing at the 2017 World Athletics Championships in London last August, top Nigerian athletes have called on the Athletics Federation of Nigeria to get its acts together and plan ahead for the 2018 season.
This is just as the Commonwealth Games billed for April 4-15, 2018 is beckoning. There is also the CAA African Championships later in the year, but there has been no word of a training programme to the athletes from the AFN. Members of the newly inaugurated board are still at daggers drawn over who takes control of the various committees.
"I am currently training on my own knowing full well that 2018 is going to be a busy year," said 400m runner Patience Okon-George
"We didn't prepare very well last season because of the politicking. It really affected us in our international competitions.
"Sadly the issue is still lingering and I want the AFN members to put their acts together as quickly as possible so that we can start our preparations for the Commonwealth Games and the African championships, which we are hosting.
"We have athletes who are working on their own, but up till now nobody from the AFN has called us concerning our programmes for 2018.We must have to break from the past and begin to do the right things to reposition our track and field,"
Long jumper Ese Brume also spoke in the same vein.
"I am trying to get myself prepared for 2018. Last season I trained almost on my own and that affected my performance at the World Championships.
"We can only look forward to a new begin in athletics management in the coming season," said the soft spoken Brume who is the 2014 Common-wealth Games champion.