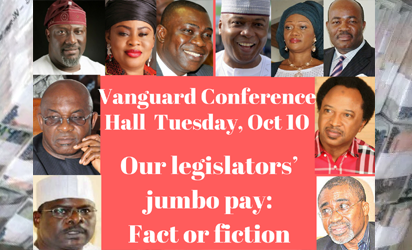 The salaries of Nigerian legislators at federal and state levels have been a source of controversy largely based on the ambiguity with which the issue has been handled.
Whereas the Revenue Mobilisation, Allocation and Fiscal Commission, RMAFC has made provision for the salaries and allowances for political office holders in executive and legislative offices, there is a supposition in many minds that the lawmakers have found surreptitious ways to enhance their entitlements.
Thus, Nigerian legislators have over time been associated with jumbo pay, scandalous allowances and seemingly surreptitious breaches of extant laws in packaging constituency allocations to themselves.
While in some cases the allegations are based on ill-founded rumour, some legislatures especially in the states have not helped matters with some of them appropriating constituency projects to themselves at the same time contracting the projects to themselves for execution.
Suggestions that Nigerian lawmakers are overpaid are also countered by the privileges that their colleagues in some countries get like in Canada where spouses and children have entitlements.
In the light of the continuing furore over the pay and allowances of Nigerian lawmakers, the Vanguard Conference Hall will on Tuesday, October 10 host a distinguished panel comprising representatives of parliament and civil society to ventilate and shed light on the issue.
The Vanguard Conference Hall to be moderated by Emmanuel Aziken, will be an opportunity to bring focus to the issue of the entitlement of Nigerian legislators whether it is the standard or a scandal.
The proceedings will be streamed online at the Vanguard website, www.vanguardngr.com, from 11.00 a.m. Nigerian time and followers can present questions by sending text to 08052201189.
THE PANEL
Adetokunbo Mumuni, a lawyer with 27 years working experience is one of the country's leading advocates of social and economic rights of the downtrodden. He is the Executive Director of the Socio Economic Rights and Accountability Project, SERAP, and before then had worked the Constitutional Rights Project (CRP) Lawyers Committee.
Hon. Eseme Eyiboh, businessman, politician, former legislator and passionate exponent of good governance brought his intellectual grace to bear as the promoter and dean of The Initiatives, an intellectual group in the Sixth House of Representatives.
He is a chieftain of the All Progressives Congress, APC in his native Akwa Ibom State.
Peter Egbule is the National Coordinator of Publish What You Pay, and also the Chief Operating Officer of West African NGO Network (WANGONeT). Egbule holds professional qualifications in Town and Regional Planning , Shipping and Petroleum Management (Outstanding).
Debo Adeniran, a Consultant Educationalist, is the Executive Chairman of the Coalition Against Corrupt Leaders (CACOL); Head Consultant, First Faculty Ventures (FFV) National Coordinator, Child Help In Leadership, Democracy, Rights and Education in Nigeria (CHILDREN) Project with a famed reputation as a terror to corrupt persons.
Oluseun Onigbinde, an engineer, co-founded Nigeria's civic tech organization, BudgIT in 2011. Oluseun Onigbinde is a recipient of the Ashoka Fellowship, Future Africa Awards, Quartz Africa 30 Innovators Award, Draper Hills Fellowship at Stanford University, Aspen New Voices. He sits on the ONE Africa Policy Advisory Board and also worked as a Knight Innovation Fellow with the International Center for Journalists. He also had Executive Education at Stanford University Graduate School of Business on Social Entrepreneurship.
Comrade Joe Ambakederimo the convener of the South-South Reawakening Group is an Environmental activist, an advocate for Good Governance and Development Expert.
He is a member of the World Free zones organization, World Bioenergy Association and Environment Management Association of Nigeria.