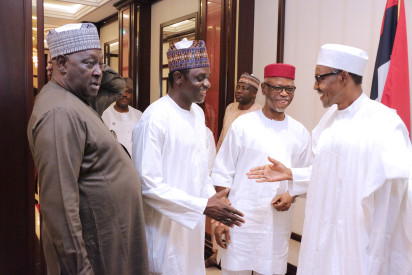 R-L; President Muhammadu Buhari, APC National Chairman, Chief John Odigie Oyegun, APC National Secretary, Hon Mai Mala Buni and SGF Engr Babachir David Lawal during breaking of Ramadan Fast at the State House. PHOTO; SUNDAY AGHAEZE/STATE HOUSE. JUNE 24 2016.
For the country to make progress, Nigerians must elect credible leaders to public office.
Ituah Ighodalo, Senior Pastor, Trinity House, stated this at the Annual Public Lecture organized by the Bishop Kola Onaolapo Memorial Foundation, held at the Nigerian Institute of International Affairs, Lagos. The lecture was held under the chairmanship of Pastor Taiwo Odukoya of the Fountain of Life Church, Lagos.
Speaking on the theme, "The Role of the Church in Enhancing Good Governance in Nigeria", Ighodalo maintained that good governance is salient for making decisions which are effective, inclusive and transparent. He stressed that good governance is attainable only through the electoral process where the populace exercise their civic rights and vote in credible, capable leaders.
He urged Nigerians to ensure that they, at all times, pray for the nation, the leaders as well as those in positions of authority. Ighodalo cited the biblical injunction in which the Israelites of old were commanded to pray for the peace of Jerusalem. He also called for national repentance and an insistence on righteousness/holiness, particularly amongst those saddled with the onerous task of running the affairs of the country. He cited these as part of the major roles the church must play in ensuring and enhancing good governance in Nigeria.
The Lagos preacher bemoaned the poor state of the country's education sector and stated that Nigeria's literacy rate is estimated at 61% with a large number of out-of-school children (over 10 million).
Ighodalo questioned why Singapore, though not a Christian nation, applied biblical principles for governance and transformed, while Nigeria, with a large population of Christians, cannot follow same path.
"How did developed nations get to where they are? What were their tipping points? Despite having some of the best resources and greatest intellectual minds available, Nigeria continues to face challenges in good leadership", the Senior Pastor said.
He underscored that good governance can only be achieved through the strict adherence to ethics, morality, equality and fairness, rule of law, discipline, hard work and sacrifice; these, he stressed, are all biblical principles.
Ighodalo also referred to "non-Christian nations like Japan, China, UAE (Dubai), Singapore, Malaysia that thrived largely on these principles.
On his part, the Chairman of the occasion, Odukoya, insisted that for the Church to be relevant in good governance, Christians must learn to conquer fear and aspire to the highest positions in the land.
The biennial Annual Public Lecture was instituted to immortalize the late Bishop Kola Onaolapo, founder of Abundant Life Gospel Churches, who, in his life time, devoted time, energy and resources to youth talent and skills development, missionary aid and leadership capacity building. Promoting Good governance and improved living standards for all Nigerian were central to his numerous sermons and teachings.