By Tare Youdeowei
LAGOS—THE League of Patriotic Lawyers has faulted the invitation of the Chairman of Economic Crimes Commission,EFCC, Chairman, Mr. Ibrahim Magu by the House of Representatives, describing it as an exercise in futility.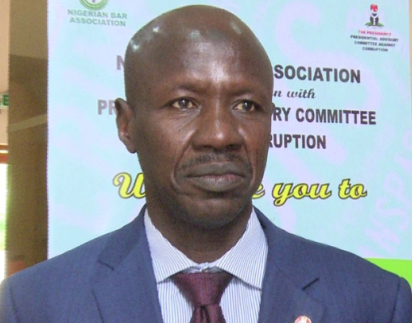 Briefing newsmen, Monday, in Lagos, Chairman of the group, Mr. Abubakar Yesufu urged the National Assembly,NASS, to stop what it termed  dabbling into matters before the courts.
He said: ''The recent invitation of Ibrahim Magu by the House of Representatives is indeed an exercise in futility and a gross abuse of legislative powers.The invitation was one of the series of methods crafted to clog the wheel of the anti – corruption campaign under Ibrahim Magu. How else can one justify the recent "Lettre De Catchet" issued in a matter that the courts are seisedof.
''Once the court takes on a matter, it is a basic principle of law that it should be allowed to conclude same. Oversight functions of the National Assembly do not include matters that are already under litigation by various competent courts.''