THE Lagos State Government, penultimate week, commissioned its DNA (Deoxyribo Nucleic Acid) forensic laboratory. It is the first state-owned DNA laboratory in the country. Governor Akinwunmi Ambode had, last year, approved the DNA laboratory project as part of the criminal justice sector reforms designed to solve crimes through technology.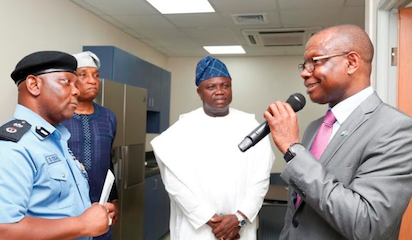 DNA profiling is a unique forensic technique in vogue all over the world. The Attorney-General and Commissioner for Justice, Adeniyi Kazeem, who announced its completion during activities to mark the 2017 United Nations International Day of Peace said the laboratory is part of the Government's efforts towards enhancing peace in the State.
The DNA technology will assist in resolving many paternity issues and help bring justice to rape victims. With its high crime rate, there is a need to make the Lagos metropolis safer for residents. Assurance that criminals will not go free will impose the needed restraints and reduce crime rates.
The facility has the capacity to assist the Police, prosecutors, defence attorneys and private citizens. It provides crime scene processing, serological screening for blood/semen, DNA analysis of bone, teeth and hair, maternal/paternal relationship DNA analysis, expert witness, case-handling services, paternal/maternal DNA analysis, cold case files review and mass disaster human identification.
Until now, virtually all DNA testing and analysis were carried out outside the country. This caused unnecessary delays and higher cost of case determination, which often meant that many cases could not be solved and perpetrators brought to justice. The Centre will enable relevant prosecution agencies to reopen unresolved high-profile cases frustrated by lack of compelling evidence to secure conviction.
The public expects much from the facility, especially in assisting the law enforcement agencies and the courts to crack highly complicated crimes.
We call on the operators of this centre to ensure that standards are not compromised at any point in time. The Government should make provisions for routine maintenance to shield the facility from the fate that has befallen other huge public investments. It is not enough to acquire high-tech facilities with big money and not put them to proper use in the public interest. A lot of government-owned multi-million Naira equipment are rotting away in some government hospitals and other health institutions throughout the country due to our pathetic lack of maintenance culture.
We call on the Lagos State Government to ensure that the DNA laboratory is managed only by qualified personnel of high professional integrity. There should be zero tolerance for mediocrity. The cost of services rendered should be affordable to the citizens, especially those bordering on paternity issues which are likely to be frequent because of Lagos' cosmopolitan nature.
Adequate security should also be provided at the Centre to prevent vandalisation.