As former President Goodluck Jonathan prepares to give his own account of his historic defeat in the 2015 presidential election, more insiders are coming forward with their version of what happened.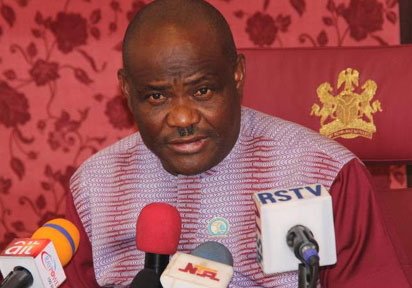 Governor Nyesom Wike of Rivers State said members of Jonathan's cabinet and ranking members of the Peoples Democratic Party, PDP, from the party's former chairman, Adamu Mu'azu, deceived the former president and told him outright lies about his chances.
In the current edition of The Interview, Wike said: "Let me tell you the truth; so many people were not sincere with Jonathan. You saw that even in the way some were being unduly sycophantic on issues that were totally out of point…I saw there was a lot of deceit."
In a statement, MD/Editor-in-Chief, Azu Ishiekwene, said the current interview was "yet another riveting chapter in the unfolding story of Jonathan's monumental defeat."
Wike said there were situations where politicians who were supposed to be in the field holed up inside Abuja, filing false reports.
He continued: "Some of them would say, 'Your Excellency Sir, as I'm speaking with you now, so and so state is down for PDP'. It was all lies."
He attacked the Northern leaders of the party, saying: "PDP in the North ganged up against Jonathan. Let the truth be told. Nobody will die. They were not sincere to him."
He said it was a mark of complicity that even though Jonathan was stoned in some states and the governors in those states watched idly by, adding that, "if I were in Jonathan's shoes, I won't take it; let the heavens fall."
Wike, who was Minister of State for Education under Jonathan and generally perceived as First Lady, Dame Patience Jonathan's "anointed," attacked "most cabinet members" for taking advantage of the former president's gentlemanliness.
He, however, said the PDP reconciliation committee of which he is chairman, had in their sights, former President Olusegun Obasanjo and top members of the ruling All Progressives Congress, including former Vice President Atiku Abubakar and Asiwaju Bola Ahmed Tinubu, among others.
He also spoke on his controversial presence as the only PDP governor at the airport when President Muhammadu Buhari returned from his medical vacation in Britain, an act that has raised some eyebrow.
Wike spoke on his relationship with former Governor Peter Odili and allegations that he gatecrashed the office of a former Chief Justice of the Supreme Court to fix the outcome of the state's governorship election petition before the court.
He said: "These (the purveyors of the information) are evil people. Can Rotimi Amaechi tell the story of his life and he won't mention Peter Odili? Can Dakuku Peterside mention anything and he won't mention Peter Odili?"
The Rivers State governor also spoke on the leaked tape allegedly containing his voice, and claims that the $43 million found in an Ikoyi apartment belonged to the state government.
"Let the Federal Government dare release the report. You will see what will happen," he threatened.
The edition also features the regulars, including a new columnist, Olubunmi Ajayi Layode, who shares her experience as survivor-in-chief of an abusive marriage.