By Emeka Mamah & Dennis Agbo
ENUGU—THE Professor Ben Nwabueze-led Igbo leaders of Thought, ILT, has demanded from President Muhammadu Buhari a fresh draft constitution through convocation of a constituent Assembly.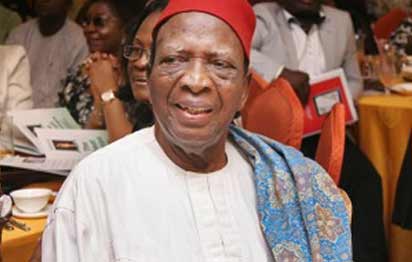 The group also said it aligns completely with the last resolution of the joint meeting of four geo-political zones in the country—South-South, South-East, South-West and the Middle-Belt— in Abuja last Thursday.
The Igbo leaders went further to throw their weight behind the Ibadan, Oyo State, declaration on the September 7, insisting that the powers of the Federal Government be reduced far below what they were under the 1963 Constitution.
These were parts of the deliberations of the group on the state of nation, where they said the meeting reviewed all things currently going on in the country including the October 1 speech by President Buhari, Professor Ben Nwabueze's letter to The Patriots, communiqué of the Middle Belt Forum, among other issues.
Roll call
Those at the meeting also included Major Goddy Onyefuru, Chief Maria Okwor, Professor Chiweyite Ejike, Chief Enechie Onyia, Professor Uzodinma Nwala, Evangelist Eliot Ugochukwu-Uko, Rev. Fr. John Odey, among others.
In the communiqué, signed by Professor Nwabueze and read by ILT's Secretary, Professor Elochukwu Amucheazi, the Igbo leaders said they would like to remind all Nigerians that the greatest problem facing Nigeria remains the unresolved national question, he noted as "restructuring."
Parts of the communiqué read: "ILT condemns the invasion of the South-East by the military through the so called Operation Python Dance II and the humi-liation and the attendant killings by the Army.
"The ILT calls for a thorough investigation into NNPC crisisand will like to reiterate, even if it is for emphasis, the support for the wide-spread clamour in the country for restructuring."