By Henry Umoru
ABUJA- FORMER Senate Leader, Senator Ali Ndume Thursday painted a gloomy picture of humanitarian crisis in the North East, stressing that it is the worst in the world.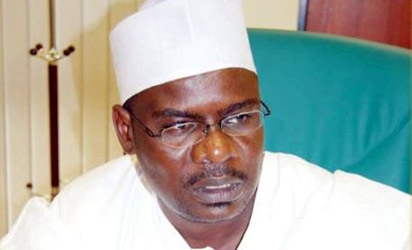 Ndume said, "The humanitarian crisis in the North East is enormous. I feel accomplished. We have done something that will help our people."
Speaking to Journalists in Abuja,following the signing into law of North East Development Commission (NEDC) Bill by President Muhammadu Buhari, the immediate past Senate leader said that at the end if the day, the Commission would address underdevelopment in the region and rebuild places destroyed by insurgents.
Ndume also spoke on how he spearheaded the drafting of the bill and mobilised lawmakers from the Senate and the House of Representatives from the North East, said that when fully functional, NEDC will bridge the huge development gap, adding that although his effort was not acknowledged by some people, the records are there to prove that the commission was his brainchild.
He said, " It is unfortunate that I was not appreciated. But I am not bothered. The records are there. Nobody can change that. I spearheaded it. I convened the caucus of North East of both chambers. I was the first person to do that. You know the role I played. The whole country knows. If one person decides to ignore my role, God knows and Nigerians know."
On the signing of the bill into law, Ndume said: "I thank God and I feel excited. By signing the bill, the President made my day. I am really happy. This is a milestone in the history of my sojourn in the National Assembly. This is the first bill I initiated that got the support of all my colleagues. It was co-sponsored by my colleagues from the North East.
"Niger Delta case is different. The challenge was that of environmental degradation. It was a case of negligence. It was a case of addressing those challenges. The case of NEDC is different. We did not want this naturally. Disaster happened and we needed help. It was because of the disaster that I sponsored the bill.
"The North East is one of the poorest regions on earth. With this coming of NEDC, the issues will be addressed. North East Development Commission has come into existence with the signing of the bill into law. How it will be funded is a different thing.
"The problem the Presidential Initiative on North East had was that it was not an institution. But the NEDC is a creation of the law. This will not be managed by one man. The agency will be well structured. This institution is set up to address humanitarian crisis. It cannot compromise. It is very sensitive."