By IYALODE ALABA LAWSON, National President, NACCIMA.
Nigeria's population estimate of over 180 million people, accounts for about 47% of the total estimated population of West Africa but in addition to its strategic geographical location and abundant natural and human resources, one still begs the question as to why a country so privileged, is yet unable to reach its full potential after 57 years of independence?

In attempting to uncover the truth behind this phenomenon, one must critically look at the factors of production, revenue sources and expenditure pattern. The overdependence on crude oil at the detriment of every other productive sector of the economy is believed to have plunged the nation's economy into unreserved instability culminating in a five-quarter-long recession which the nation only recently marginally exited from.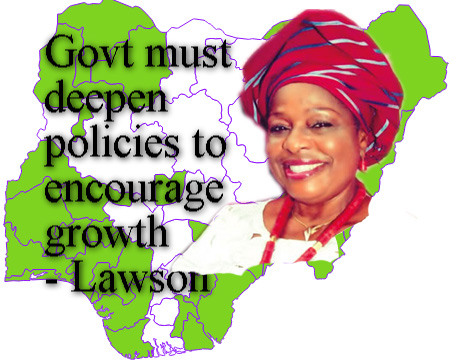 The Nigerian Association of Chambers of Commerce, Industry, Mines and Agriculture (NACCIMA) has attributed this slight economic recovery to a few factors, such as, improved and relatively stable fiscal and monetary policies and discipline, government intervention programmes and strategies such as the Economic Recovery and Growth Plan (2017-2020), Pioneer status, Export Expansion Grant, Intervention funds which have brought about renewed investor confidence and earnest efforts by Private Sector Operators. However conscious and consistent implementation efforts are critical to ensuring that these programmes result in outstanding successes.
Despite these modest achievements, there is, however, the need to establish how inclusive the growth in the economy has been and also how sustainable these achievements will prove over time. Inflation also needs to be curtailed to ensure that the gains from recent economic upturns are not consumed by high price index, such as the prices of goods and services especially for an economy still largely dependent on imports and crude oil earnings.
With the renewed diversification drive by the government, there is need to also focus on the intensified implementation of programmes and strategies geared towards economic recovery. NACCIMA, is, however, concerned by the nation's increasing foreign and domestic debt profile and strongly cautions that if the government must continue to borrow, it must be strictly for investments and infrastructural development and not for recurrent expenses.
The infrastructural deficit currently being experienced in the country continues to be a major cause of concern to the association and indeed all entrepreneurs. The Association expects more intensive efforts to be made to improve the power and transportation infrastructure to reduce the high unemployment rate in the country and encourage more Micro Small and Medium Enterprises to thrive.
This is in addition to creating better monetary and fiscal policies to stimulate the growth of enterprise and rejuvenation of the economy in areas such as interest rate reduction, better inflation control measures, easier access to capital and intervention programmes.
Nigeria's low rating by the World Bank on Ease of Doing business suggests that more proactive measures like the Presidential Enabling Business Council PEBEC's on the ease of Doing Business needs to be put in place to ensure that comprehensive analysis of current challenges facing different sectors of the economy are undertaken with  systematic solution-based-recommendations provided and implemented.
Now is the time to propel the nation's economy by inputs from especially the Agricultural and Mining sectors. The prospects in these sectors are enormous and must be fully explored to increase the country's export potentials, improve Gross Domestic Product, attract more Foreign Direct investments and revenue to individual businesses and the economy at large. NACCIMA is a resolute supporter of the call for an agricultural revolution in Nigeria and in light of this will be holding an Agri-Agro Summit in partnership with The Nigeria Incentive-Based Risk Sharing System for Agricultural Lending NIRSAL with the support of the Federal Ministry of Agriculture and Rural Development, FMARD, amongst others.
The Nigerian Association of Chambers of Commerce, Industry, Mines and Agriculture (NACCIMA) and all stakeholders in the Organised Private sector will always be willing to bring in the vast knowledge and wealth of experience at its disposal to ensure that a conducive and enabling environment is provided for businesses to thrive and attract investors.
Iyalode Alaba Lawson, educationist, banker and business magnate is the president of the Nigerian Association of Chambers of Commerce, Industry, Mines and Agriculture (NACCIMA). She is the first woman to hold the position. She is also the chairman of the governing board of the Moshood Abiola Polytechnic, Ogun State.