By Chioma Gabriel & Emmanuel Aziken
Former Governor of Anambra State, Mr. Peter Obi, has dismissed as false, claims by his successor, Willie Obiano, that he demanded for N7 billion from him.
Reacting to Obiano's claim, the media aide to the former governor, Mr. Valentine Obienyem, described it as a desperate statement from a man not sure of his survival and is busy clutching at straws.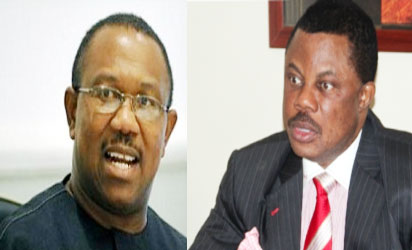 Obienyem further recalled how, on December 23, 2016, Governor Obiano, for the first time since becoming governor, visited Obi with a Bishop and said he had come to beg Obi to forgive him all the wrongs he had done to him and to help him win re-election.
Obienyem said Obi asked him about the claim that he requested N7 billion from him, and that Obiano denied saying so and that it was his aides and one party chieftain that said it.
Obienyem said that it was left for the bishop in question and many others that followed the falsehood to gauge the character of a man entrusted into such a high position.
Obi's aide gives account
Obienyem continued: "It is unimaginable and unthinkable that Obi would leave $156 million, N25 billion and another N23. 6 billion for Obiano's administration and be demanding N7 billion from him even when he had five months before hand over to take the money and still have plenty to hand over to him.
"The other day, he said he exported $5 million dollars worth of Ugu, exported Onugbu, rice and have orders to export 10 million tubers of yam, when Anambra buys yam from other states; and wants to be taken seriously?"
Concluding, Obienyem called on Obiano to account for the over N400 billion he has received, including the said N7 billion he claimed he refused to pay to Obi.
He said now that elections are near and Anambra people were asking the governor to tell them what he has done, he is diverting attention by inventing lies, adding "let him show schedule of debt  he claimed Obi owed."
Peter Obi speaks
Meanwhile, Mr. Peter Obi has disclosed details of the money he left for Governor Willie Obiano and denies owing any contractor or supplier.
Answering questions from journalists yesterday in Lagos on the statement by Governor Obiano that Obi left him with N127 billion debt, the former governor said it was shocking that the governor would calculate unexecuted contracts and bandy those as debts.
His words: "When I became governor, I inherited some roads from Dr. Chris Ngige—Zik's Avenue, Mmili John, Onitsha-Ogwikpele Road, among others— which I started and completed. I also completed Isseke to Awka Etiti, Ideani to Otuocha and did not count them as debts inherited from Ngige, because as at the time he left, he paid for all executed contracts.
"My biggest contractors were RCC and IDC, while the biggest suppliers were Innoson, HP and Coscharis Motors. Ask them if I owed them a kobo before leaving office."
Obi said what Anambra people need to hear from Obiano is what he has done with the over N400 billion he has received as governor and the N25 billion and another N23.6 billion set-aside funds he received on handover.
Obi said Obiano also need to tell Anambra people what he had added to the $156 million he left in savings for the state, which, when interests are added, is about N200 billion today.
Obi displays banks' statements
Obi went a step further, displaying copies of statements of account from the banks, dated March 27, 2014, the day he left office:
N21,038,322,593.34 in Fidelity Bank; N15,842,277,676.73, Diamond Bank; N2,686,491,042.49, Enterprise Bank; N2,157,971,400.81, in First Bank; N1,822,444,989.99, Access Bank; N1,146,656,417.33, in Keystone Bank; N1,311,827,780.46, in UBA; N642,155,436.82, Zenith Bank; N309,058,709.04, Unity Bank; N696,497,374.71, Sterling Bank and N172,491, 556.30 in Skye Bank.
Obi said part of the money he left as set-aside was to execute some of the projects he discussed with him, including three Arms Zone, awarded for N8 billion, for which he already paid N2 billion.
He advised Obiano to concentrate his energy in telling the people of the state what he has done for them and not peddling lies as a substitute for projects, adding "you said you had executed over 400 kilometres of road.
"Are they in Haiti? Show or mention the roads to the people."
Why I refused to pay Obi N7.5bn—Gov Obiano
However, Governor Willie Obiano insisted that he refused to pay the N7.5 billion demanded by the former governor, Mr. Peter Obi, because there is no justifiable basis to pay such a huge sum.
Speaking during his campaign rally at Eze Chima Primary School, Onitsha, at Onitsha North Local Government Area, the governor said the demand was not convincing enough as he failed to render accounts of all funds generated to support the election.
His words: "I was not convinced that it was right to part with such an amount because I know that there were fundraising efforts to support the campaign and the former governor was in charge of the funds and did not render account after the election.
"When he demanded the money, I told him it was too much as it would not be in the interest of the people. If I had done that, I could not have been in a position to continue to pay workers' salaries and build infrastructure."
He explained that the clarification was necessary because of recent accusations against him by the former governor.
Obiano stressed: "I insisted that I will only use public funds for public purposes. My  interest is to improve on the lives of Ndi Anambra. This is why we fell apart. So, don't be deceived by whatever they tell you."
… on Obi's  banks' statements
On the varying sums which the former governor claimed he left behind, Governor Obiano made it clear that he inherited liability of about N127 billion from him in contracts awarded and other responsibilities.
His words: "Out of this N127 billion, we have gradually paid off N67 billion to contractors for every valid certificate raised. I continued doing all these in the spirit of continuity."
He re-assured the people that he will continue to provide necessary facilities so as not to allow anything distract him from fulfilling his promises to Ndi Anambra.
Victor Umeh
The Chairman of the governor's re-election campaign committee, Chief Victor Umeh, said APGA as the political spirit of Ndigbo, had in the past three and half years, availed Ndi Anambra good governance at its best.
A former Central Bank Governor, CBN, Professor Chukwuma Soludo, said at this time, the state needed a tested hand like Governor Obiano, who had the experience and expertise to effectively steer the affairs of the state.
In separate remarks, the Transition Committee Chairman of the council, Mr. Patrick Mba, and an  APGA, stalwart, Chief Augustine Chukwuka, said Ndi Anambra had enough reason to re-elect Governor Obiano, because he had shown in visible terms that he could move the state forward.