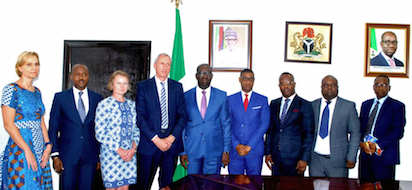 L-R: H12 Business Partner, Yvonne Chioke; Regional Director, Nigeria Cluster, Junior Ahodegnon; Director Procurement, VLISCO, Fiona Coyre; CEO VLISCO, David Suddens; Edo State Governor, Mr. Godwin Obaseki; Commissioner for Wealth Creation, Cooperatives and Employment, Hon. Emmanuel Usoh; Commissioner for Finance, Hon. Osagie Inegbedion; Commissioner for Science and Technology, Hon. Emmanuel Agbale and the Permanent Secretary, Ministry for Science and Technology, Mr. Igberaese G.O during a courtesy visit by VLISCO at the Government House, Benin City, on Monday, October 30, 2017
The Edo State Government has expressed readiness to partner with VLISCO Group to support skills acquisition programme for youths in the state, as part of efforts to tackle the scourge of human trafficking and slavery.
Governor Godwin Obaseki, said this while playing host to top management of VLISCO, led by the Chief Executive Officer (CEO), David Suddens, who paid him a courtesy visit at the Government House in Benin City, the Edo State Capital on Monday.
Obaseki said the goal of his administration is to empower the youths by creating an environment that will attract businesses and employment opportunities.
"As a government, our plan is to first attract businesses to the state and ensure that they thrive by taking advantage of our strategic location as a logistics hub," he said.
He lamented that with a population of about 4.5 million people, 60 percent under the age of 25, many of the youths want to travel abroad.
He explained that given "the strategic location of the state, the European Union (EU) and other international partners are asking us to come with proposals and are ready to support and help create industries and jobs for our young people to ensure they stay back and be gainfully employed."
The governor said his administration will leverage on the comparative advantage of the strategic location of the state to attract investments, adding that "the advantage gives the state a market size of about 60 million people."
Earlier, the CEO of VLISCO said his organisation is known for the production of Dutch wax, and assured that they are looking at opportunities to expand their business.
He said the company's vision is to grow cotton in Nigeria and export the product to Holland. He added that his group intends to build a printing mill in Nigeria that will print for Nigerian consumers, using high digital printing technology.