By Onome Amawhe
The role of women in Finland's diplomatic service and their giant strides is being echoed in most of the world's diplomatic corps. Since the early 20th century when Finland pioneered gender equality; Finland has been admitting women as normal candidates, who then develop into fully-fledged diplomats.
Ambassador Pirijo Suomela-Chowdhury thinks gender diversity helps a nation to bring different perspectives to particular problems and scenarios than if it were to be made up of decision-makers who have similar backgrounds and attitude.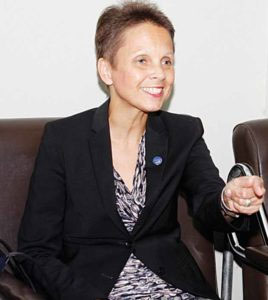 She also narrates the story of the role of Finnish women in the Nordic country's diplomatic world, with an exploration of how gender policies and legal measures were introduced to ensure that women have fair and equal opportunities in Finland's Diplomatic Service and how they operate in today's society, and the ways in which they accentuate the work and aims of feminism.
Finland pioneered gender equality in 1906 when it gave women the right to vote and stand for election. Looking back, how has that evolved over the years? I am glad you ask me that question because I am always keen to talk about gender equality.
In Finland, gender equality has been critical to the development of our society, economy and democracy. Women are highly educated, and a very active part of the work force.
They have also been actively involved in politics for a long time, and for the past 12 years, we've had a woman as President.
About half of our diplomats these days are also women. For a society to succeed, it is imperative for it to use all of its potential. While of course there are still things to improve in Finland, too, I am proud of our pioneering role in gender equality, and the role that women in my society have had since. Nordic countries have closed over 80 percent of the gender gap, making them useful as both role models and benchmarks. So, what is the secret of their success?
I believe a society that gives equal opportunities to all its members, produces the best results for all. It allows the talent of the whole society to be used for common good. A critically important element in ensuring equality is education.
In Finland, it does not matter where you live, or what your background is, you always have access to quality education and that has, for many decades been an instrument of social mobility that has given us all the opportunity to realize our potential.
How have women empowerment advanced the Finnish foreign policy interests? How would you characterize the evolution for women in the Finnish diplomatic corps? Women are fully involved at all levels of diplomacy. It is impossible for me to imagine our diplomatic service, or our international relations without women.
In diplomacy, as in any area of life, it is important to have both women and men represented. We all promote the same foreign policy goals of Finland, but we do it better when we recruit the best talent to do it – and that talent lies in both men and women.
On an average month, how many meetings do you attend where you are the only woman, or women are a minority in the room? In my present post, I regularly attend meetings where women are in minority. At the same time, I have worked for many years in offices where there are many more women than men.
How did you make space for your voice to be heard as you were rising in your profession? I have always had a loud voice, literally, ever since I was a little girl. In getting my messages across, I believe I have been in the same situation with most people.
Of course it is not always easy – but the older you become, the more comfortable you feel about voicing your honest views, and the less you care what others think about you. Of course it is also good to listen and to learn. Work-life balance is a buzzword when it comes to women's issues and career advancement. How have you balanced work and family throughout a very successful diplomatic career?
I guess in that sense I might be a little bit like your stereotypical man. My focus has been heavily on work, which for me is also my hobby and my passion. I am grateful to my family who loves me and let me be who I am. Would you say your field of work is gender competitive? I am not quite sure what that question means.
Where you have human beings, you will always have competition, along with cooperation. What were your experiences going through the diplomatic world? Did you face a lot of hurdles? I have loved every minute of it.
It has taken me to incredible places, and to wonderful people. I get to learn and to push my limits every day. And it just seems to be getting better all the time. This career has been a real blessing for me, and I am still grateful every day for the opportunity.
Of course there are hurdles too – what would life be without them, but they have been pretty minimal in relation to what this career gives me personally, and in relation to the privilege of representing my country. How did your background prepare you for work as a diplomat? I grew up in a pretty ordinary Finnish family, and had the opportunity to enjoy good quality education in an ordinary Finnish school and university.
When I went on to study international relations there was no plan to become a diplomat – I just studied what at the time seemed interesting to me, and then at some point took the opportunities that came along.
When I entered the Foreign Ministry, it was a completely new world for me, but as soon as I was there I immediately knew that I was in the exact right place. How has your role as ambassador of Finland to Nigeria enhanced the bilateral relationships between the two countries?
I hope that during my time here I have managed to contribute in some significant way to strengthened relations between our two countries, with the support of our many wonderful and committed Nigerian partners, and of course my great staff. One activity that I am particularly proud of is the 'CodeBus Africa' project that we did earlier this year, as part of our 100th Anniversary celebrations. The project was about promoting computer coding and encouraging girls into ICT and technology.
We worked together with fantastic young Nigerian coding instructors and our local partner Ventures Platform. I hope that many more good things will still come out of that cooperation. How do you evaluate the socio-economic bilateral relationships between Nigeria and Finland?
The bilateral relationship between Finland and Nigeria is excellent. High level contacts in recent times have also been quite active. Last year, our Deputy Minister for External Economic Relations visited Nigeria with a business delegation, and this year our Minister for Foreign Trade and Development is set to be in Nigeria in November with a business delegation.
We are working hard already to prepare for that visit, and I am very much looking forward to it. In June we had a Minister in town for the Nordic and African Foreign Ministers' meeting which Nigeria hosted this year.
I am conscious, at the same time, that there is potential for much more, especially in our trade relations. While we already have several important Finnish companies doing business in Nigeria, and many more are exploring the market, this should only be the tip of the iceberg. There is so much business potential in Nigeria.
Subscribe for latest Videos