….says it will continue to assist exporters of yams
By Gabriel Ewepu
ABUJA- THE Federal Government on Tuesday explained why exported yams were rotten, which was due to long distance before arriving its destination in the United States of America, USA.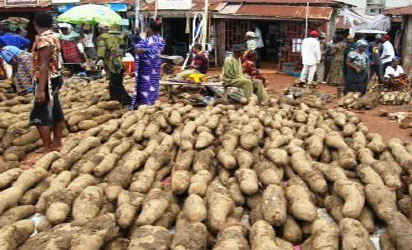 This was disclosed by the Minister of Agriculture and Rural Development, Chief Audu Ogbeh, during a sensitisation walk to mark the 2017 World Food Day.
Ogbeh said the government and exporters would not be deterred by comments people are making over the issue, rather will continue with the policy as the country being the largest producer of the commodity in the world cannot be left out in the $12 billion global market for yam.
He said: "I read some news report about some yams arriving in Britain and being rejected. They stayed so long en route and if they stay that long, they are bound to rot.
"It is a policy that will stay because we are the largest producers of yams in the world. We produce 67 per cent of the yams. We will continue to help exporters and we will not as an institute export yams. We only support the private sector to do that and if there are problems, we will solve them."
According to the Minister even Ghana, which has been the largest exporter of yam in the continent has similar challenges.
"It happens to yams from Ghana as well. We will not stop the policy of the exportation of yam. I can assure you that," he stated.
Meanwhile, the Minister said government has mandated the Nigerian Agricultural Quarantine Service, NAQS, to investigate the cause of rejection of consignment exported from Nigeria to the United States.