By Ikechukwu Nnochiri
ABUJA – Former Director General of the Nigerian Institute of Advanced Legal Studies, NIALS, Prof. Epiphany Azinge, SAN, has called for the abolition of State of Origin and Indigeneship from the 1999 Constitution.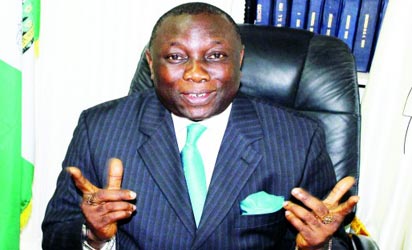 Azinge maintained that expunging the two items from the constitution would foster unity in the country and obviate situations like the recently withdrawn notice of quit that was handed to Igbo by coalition of northern youths.
The senior lawyer who spoke to journalists in Abuja while unveiling plans for the inauguration of the Azinge Foundation, said Nigeria had reached a critical junction in its national life to warrant a holistic appraisal of some components of the constitution.
He blamed the increased level of hate speeches, divisive tendencies, centripetal forces, agitations and separatist movements, on continued existence of state of origin and indigenship in the statute books, saying Nigeria needed to focus more on the issue of detribalization.
"We need to address the issue of detribalization. We do not need separation, we need to blend and harmonise as much as we can.
"We need to obviously put down the issue of State of Origin and Indigeneship, and emphasise the nucleus, that is Nigeria.
"I do not need anybody to ask me where am I from because I am a Nigerian. I am not from Delta, not from Asaba. I am from Nigeria. Delta or Asaba is secondary or tertiary if you want to use the expression in that order.
"If you want a united Nigeria, you must make all Nigerians believe that you are part and parcel of this country without equivocation.
"So, we need to address some of these issues so that the people who are out there will obviously appreciate that this country is not one where you will be narrow minded".
Against this backdrop, Azinge, SAN, said it was the considered position of his Foundation that the country was still holding unto primordial sentiments of tribalism and ethnicity.
He said it was necessary for anybody aspiring for any leadership position in the country to be seen as a detribalised Nigerian.
"If you do not show signs of being a detribalised Nigerian, you don't have any right to aspire to the highest office in the country. That is my thinking because you cannot be narrow minded as far as leadership is concerned.
"You must show us that sign of detribalised Nigerian, either directly or through your family members.
"If you don't have that quality, you cannot lay claim to leadership position. That is the only thing that can forge the unity we desperately need in this country. So, we don't want anything that will separate us. Nigeria is a great country.
"It is only when you think that you don't belong to a part, that you obviously discriminate against them.
"There was a time when the fear was religious bigotry or divisive tendencies, but now, it is where are you from; who are you etc.
"What we have succeeded in doing for now is to suppress the issue of quit notice and agitation, by the time it comes up again, if nothing is done, then we are in trouble" he added.
He disclosed that part of activities lined up for the inauguration of the Azinge Foundation included the presentation of awards to former Presidents, Shehu Shagari, Goodluck Jonathan, former Head of State, General Abdulsalam Abubakar, Governor Rotimi Akeredolu and other public figures he discribed as "highly detribalised Nigerians".