…The travails of diabetic Nigerians
…Experts list risk factors, lament government neglect
By Chioma Obinna
When in 2010, Mrs. Henrietta Olaolu was diagnosed of Type 2 diabetes, it sounded like folk tale to her.   She was having increased frequent urination and losing weight.   Her fasting blood sugar test was reading over 350mg/dl.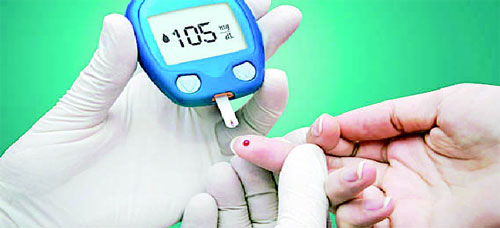 However, it dawned on her when she went for several tests and it was concluded that she was diabetic.
Her doctor immediately placed her on insulin injection.    Unfortunately, seven years down the line, Henrietta can no longer cope with the cost of treatment.   The high costs of managing her diabetes have drained her financially.
This is because unlike many other countries, Henrietta, like other Nigerian diabetics, are faced with challenges ranging from lack of government support, lack of education on diabetes and wrong diagnosis, lack of appropriate medical infrastructure, dearth of diabetologists and endocrinologists, financial inability to procure the basic diabetic management supplies and absence of well-coordinated networks, and poor adherence to drugs.
Investigations by Sunday Vanguard showed that reagent strips for daily self-monitoring, which sold for N3,000 two years ago, now costs almost N7,000, no thanks to import duties which importers must pass on to patients.
Despite the rise in the price of these reagent strips and drugs, government does not seem to reckon with the problems of diabetes which experts say are far greater and more challenging than malaria, HIV/AIDS and cancer that attract special allocation in the Nigerian budget.   Unfortunately, diabetes, which affects millions of Nigerians, has no budget.   For instance, while the 2017 budget made provision for the establishment of six advanced treatment centres for cancer, which affects a fraction of Nigerians, diabetes, which affects millions, with half of them not even aware they have it, has no budget.
Meanwhile, the Sanofi Diabetes Summit, held in Lagos, threw up several revealing issues about the state of the ailment in Nigeria. It's a known fact that  diabetes has assumed an epidemic proportion in several countries around the world, with as many as 415 million cases recorded as far back as 2014 and experts say this could rise to 642 million by 2030, with most of the new cases coming from Africa.
This is, however, not the big news for Nigeria. For sure, the disease is on the increase in the country. Experts at the summit revealed that the five million estimated cases could be a child's play as twice this number could be walking the street in different parts of the country, not knowing they are diabetic.   Many of them would have their foot amputated and several others may develop blindness, kidney or heart problem, and stroke which are all complication of diabetes.
But the big revelation at the Sanofi Diabetes Summit has been the fact that Nigerians living with diabetes have far more harrowing experience than their counterparts elsewhere in the world and even nearby African countries.
First to raise this concern was Prof. Abiola Oduwole, a Consultant of Paediatrics Endocrinology, College of Medicine, University of Lagos.   As a physician who specialises in the management of diabetes in children, Oduwole told participants how many of her patients are finding it difficult to cope with diabetes management due to poverty, ignorance and lack of government policy to help lessen their burden.
Insulin therapy, which is said to be very important, especially for children, is believed to be scarce in the country.   Even when available, Oduwole said many patients cannot just afford it.   This makes parents to reduce the dose of daily injection on their own sometimes hiding it from the doctor. For instance, she said a parent could decide to give his child the injection just one when the doctor has recommended that the child be given twice, in order to ensure the drug lasts for a long period as he may not be sure of getting it when needed. For the Nigerian patient, you cannot afford to stick to one particular brand of insulin. There's no guarantee that it will be available when next you need it, so you have to go for other brands.
For now, diabetics must contribute to the nation's yearly income.   Insulin, oral drugs and other vital accessories anyone suffering from diabetes must have for proper management of their condition are subjected to heavy taxation which are passed on to the patients.
While the experts from Ghana and Cameroon informed the summit that Ghanaian and Cameroonian children are given insulin free of charge, Nigerian experts like Oduwole could only tell stories of patients who could not afford the huge cost of diabetes management in the country.   Another expert told the summit that not up to 20 per cent of his patients had the glucometre to check their blood sugar level. Yet, the experts described self-monitoring by patients as a crucial part of management which helps the patient to control the disease and live a relatively healthy life.
According to the Chief Consultant Physician at the Abubakar Tafawa Balewa University Teaching Hospital, Bauchi and President, Diabetes Association of Nigeria, DAN, whereas diabetes leads to other serious conditions such as stroke, kidney and other heart problems, government has failed to make provision for it in the budget.
Alkali said a mere visit to the office of the officer in charge of the diabetes desk at the Federal Ministry of Health is enough to convince anyone of government's neglect of the disease.   For a condition that 50 per cent of sufferers do not know they have it, Alkali expressed disgust that the Nigerian government had not seen the need to embark on massive campaign to enlighten the people about it.
He further posited that the National Health Insurance, NHIS, ought to provide for diabetes patients more than it currently does.   According to him, coverage does not go beyond few weeks and the scheme does not seem to be of benefit to patients with serious complications of diabetes.
The key speaker at the summit, Jean Claude Mbanya, a Professor of Medicine and Endocrinology at the Faculty of Medicine and Biomedical Sciences, University of Yaounde, Cameroon, however, challenged Nigerians to rise up and fight for fellow compatriots living with diabetes.   He told them, for instance, that insulin, other life-saving medicines and devices do not attract import duties in Cameroon while children receive insulin free of charge. All these, he said, did not come so easily but through intense advocacy and enlightenments by experts and concerned citizens.
All the experts, however, agreed that diabetes, when detected early and when properly controlled, may not pose any serious danger to the individual. A patient can live to a ripe old age and in good health throughout his life, if properly guided on diets, lifestyles, medications, especially when under the care of all health professionals who should work as a team for his sake.
However, while the Sanofi Diabetes Forum was a huge success in terms of the calibre of professionals in attendance, quality of presentations and the opportunity it has afforded Nigeria to bring to the front burner, a disease whose crippling and deadly nature is grossly underrated by the populace, it appears the Nigerian diabetics still have a long way to go as several things already taken for granted by other diabetics elsewhere in the world are still their daily and constant worries.