By Vincent Ujumadu
Awka—THE Old Aguata Union in the South senatorial zone of Anambra State, which is the zone of former Vice President, Dr. Alex Ekwueme, first civilian governor of Anambra State, Dr. Chukwuemeka Ezeife, and former governor of the Central Bank of Nigeria, CBN, Professor Charles Soludo, said, weekend, that the surest way power can shift to the zone was Governor Willie Obiano's re-election in November.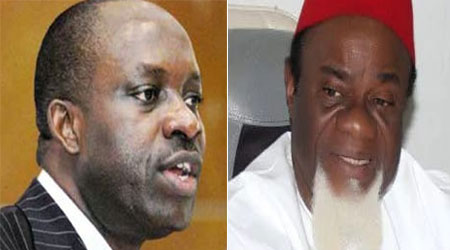 Old Aguata Union comprised three local government areas of Aguata, Orumba North and Orumba South with two federal constituencies.
The area has produced three deputy governors and one of the political parties, Peoples Democratic Party, PDP, had also picked its deputy from the area.
At a meeting attended by political stakeholders from the area, including traditional rulers, state and national assembly members, presidents-general of town unions, women leaders, political office holders and youth organisations, the people argued that allowing any fresh candidate from Anambra North to emerge governor will translate to Anambra South waiting for another eight years before hoping to produce a governor for the state.
Professor Soludo, in his address, said Old Aguata Union was tired of producing deputy governors, which, he argued, had not yielded any good thing for the area.
Former governor, Ezeife, who chaired the meeting, said one sure way to have peace and stability in any polity was power rotation among the component units, adding that since the incumbent governor is from Anambra North and had served first term, he should be allowed to complete the turn of the zone for power to shift to Anambra South, as Anambra Central had done a total of 11 years.
Two former deputy governors, Chief Emeka Sibeudu and Dr. Okey Udeh, who served under former governors Peter Obi and Chris Ngige, said their experiences as deputy governors were very ugly.
At the end of the meeting, all the 26 traditional rulers that attended the meeting signed a communiqué to support Obiano to ensure that power will shift to their area in 2022.