WITH the nation getting ready to embrace campaigns and elections in the next few months, some people seem determined to politicise efforts being made to resettle Internally Displaced Persons, IDPs, in the Boko Haram-ravaged North East, especially Borno State.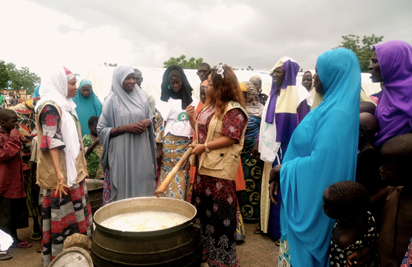 Recently, some IDPs in camps around Bama, the second largest town in Borno State, took to the streets demanding to be allowed to return to their communities. Due to the unruly nature of the protests which claimed at least one life, the Police arrested 20 of the protesters with a view to charging them to court. A Senator and former Minister who also hails from Bama arranged for them to be released on bail.
Perhaps, the Bama IDPs were encouraged to demand to be allowed to go home because of the successful resettlement of their campmates from various local governments that have been liberated by the Army and rebuilt by the State Government.
It is understandable that the displaced persons who have spent upwards of three years in camps after their communities were ravaged by the Boko Haram Islamist terrorists would want to go back and pick up their lives because of the terrible situation in the camps.  Apart from hunger and malnutrition, their children have been deprived of education, and young women are routinely raped or otherwise despoiled, with so many of them saddled with unwanted babies.
The huge cost of keeping the IDPs in camps as well as the desire to return them to their communities as soon as possible prompted Governor Kashim Shettima, after aggressively rebuilding some of the devastated towns, to announce his intention to close all IDP camps by May 29, 2016.
We had criticised the move, calling on the state government to put the safety of citizens first. Many other stakeholders and international humanitarian groups also added their voices, and the Governor had to shelve the idea.
Since the military is still issuing press releases about neutralising pockets of Boko Haram insurgents around Bama, it is obvious that allowing the IDPs from the town to go back to their homes is likely to expose them to great danger. It is better for them to tarry a little while more for the insurgents to be completely flushed out and the town rebuilt before any mass return is contemplated. Already, the state government has constructed over 20,000 houses in Bama, and so, the time for the safe resettlement of displaced persons from the town is not far off.
We urge all concerned to keep politics out of the efforts to contain Boko Haram and restore peace to Borno State and indeed, the entire North East. We also call on the authorities to take it easy on the arrested protesters to avoid creating new, unpleasant situations.