By Gabriel Enogholase
BENIN—An Edo State High Court sitting in Benin City,  yesterday, adjourned ruling on the applications for bail by counsel to the former chairman of Edo State Universal Basic Education Board, SUBEB, Prince Stephen Alao, Edo State Woman leader of the All Progressives Congress, APC, Dr. Aisosa Amadasun and three other members of the board, who were arraigned on a 50 count charge of conspiracy and corruption by the Economic and Financial Commission, EFCC.
Other accused persons are Adam Osabuohien, Dove Momodu and Mallam Ali Sulayman.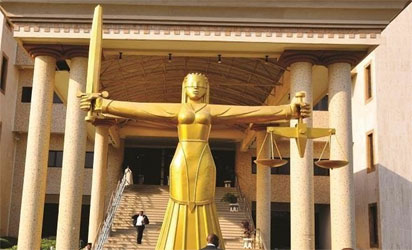 It will be recalled that they were alleged to have awarded several contracts amounting to over N1.5billion while members of the board.
The adjournment was sequel to the plea by counsel to the third and fourth accused persons, Mr. Ohioguehi Candy, that  his clients were charged for offenses that do not carry  capital punishment, urging the court to use its discretion to grant them bail.
He said that the issues raised by counsel to EFCC, were not relevant to the matter on ground as they were related to murder cases.
Ohio also prayed the court to grant the fourth accused person, Mallam Ali Sulayman bail on self recognition.
On his part, counsel to EFCC, Mr. Harrison Ibekwute however,  opposed the bail application based on personal recognition, insisting "The word Mallam, means a man. It has nothing to do with this case. I however, opposed to his bail based on personal recognition."
After listening to arguments of counsel, trial judge, Justice Ohimai Ovbiagele,  adjourned their bail applications to October 13, 2017.
It will be recalled that Dr.  Amadasun  was remanded alongside four others for allegedly using their offices while serving as board members of SUBEB, to award contracts to their cronies after collecting money from them, an act punishable under section 98b (1) (a) (II) of the Criminal Code, CAP. 48, the Laws of Bendel State of Nigeria, as applicable to Edo State.
They however, pleaded not guilty to the 50 counts charges levelled against them by the EFCC.