IN June, the Minister of Agriculture and Rural Development, Mr Audu Ogbe, flagged off with fanfare the first batch of 72 tonnes of yams being exported to Europe and America from the shores of Nigeria. It was another bold step to expand the base of our foreign exchange earning beyond crude oil.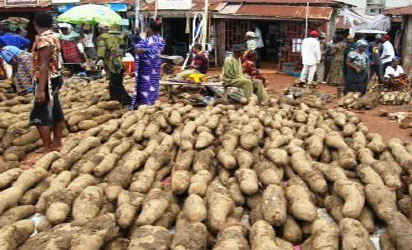 Sadly, that experiment ended on sour notes, as the products arrived at their destinations in bad shape, and they were understandably rejected. Thus, the first tottering step taken to export our yams resulted in an embarrassing flop. The poor condition of the yams must have come from prolonged and careless handling during transportation within the country and through the sea voyage. More care should be taken to ensure the delivery of good quality yams to our target markets abroad to regain their confidence.
We urge both the government and the individuals involved in the production and packaging of yams for export not to allow this setback to dampen their noble efforts to push through this new avenue for enriching our economy. Nigeria remains the largest producer of yams in the world despite the fact that we have not even embraced mechanised-level method of growing the tuber staple.
Apart from our large Nigerian population in the Diaspora, especially Europe, America and the Asian countries who eagerly welcome the Nigerian yam on their dining tables, yams form the basis for a large variety of industrial products around the world.
Massive production and exportation of yams is a very viable venture. We must encourage our farmers and businessmen/women not to be put off by this initial setback. Government should take the lead in helping to develop scientific means of packaging and preserving our yams to survive the rigours of shipping and storage to arrive their destinations in perfect shape.
Let us emulate the steps that Ghana adopted to successfully export yams. With iron-will determination we can, through research, evolve superior methods of delivering perfect-quality yams for others to copy.
The future of profitable yam production lies not just in the export of whole yam tubers. There is far more to be made by developing yam value chains. We can develop micro, small and medium scale yam pellets-processing plants and ship them to industrial end users all over the world. Through that method we can generate thousands more jobs than just selling yam tubers.
The task of preparing our agro-allied products for export should not be left to the exporters alone. Government has a big role to play in initially "clearing the path", standardising or regulating quality assurance, securing access to markets across the world, guaranteeing the safety of investments and safeguarding the interests of both the exporters and their foreign trading partners.
It is gratifying that the Federal Ministry of Agriculture is ready to lead in this effort.