By Dayo Johnson, Akure
Campaign for Democracy (CD) says the poor state of infrastructure across the country is a direct consequence of greed, indiscipline and corruption.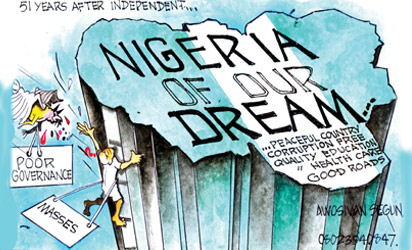 It also condemned the agitation for the fragmentation of the country.
The President and Secretary General of CD, Comrade Baku Abdul Usman and Ifeanyi Odili, respectively, disclosed this in Akure.
"CD has noted that the crisis facing us as peoples is not nationality, but a pure leadership problem", they said.
According to them, the nation's leaders had pillaged and run down our dear nation.
"It is on this premise that we condemn in its entirety any agitation for the fragmentation of Nigeria", the CD officials added.
"Such agitation is a reflection of ignorance of the real cause of our teething problem which we in the CD have traced to the political and business class".
"Our problem is greed, selfishness and pursuit of personal interest by the ruling, political and business class.