Boko Haram jihadists have raided a military base in northeast Nigeria, killing one soldier and injuring nine others before seizing weapons and ammunition, security sources told AFP on Monday.
The attack happened on Friday morning and targeted Nigerian troops in the town of Marte, near Lake Chad, a senior officer said.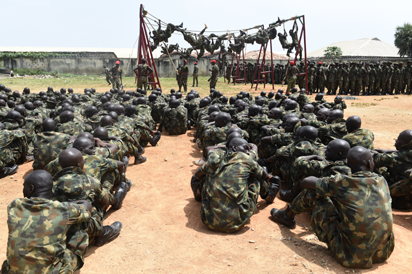 "They killed one soldier and severely wounded nine others," said the source, who asked not to be identified because he was not authorised to speak to the media.
The "terrorists" also took away a cache of arms and vehicles, including seven rocket-propelled grenade launchers and 200 rounds of ammunition, the source added.
There was no official comment from the military but two members of the civilian militia force assisting soldiers against Boko Haram confirmed the attack.
"It was a daring attack considering that Boko Haram has been lately under pressure from the military," said one of them.
"The terrorists attacked the base and outnumbered the troops, which forced the soldiers to withdraw after a fierce gun battle which left one soldier dead and nine injured."
Marte, Nigeria's main wheat-producing area , is 130 kilometres (80 miles) from Maiduguri by road to the northeast and has been repeatedly targeted during the eight-year Islamist insurgency.
Boko Haram seized the agricultural hub in 2012 but it was retaken by troops the following year after the government declared a state of emergency in Borno and two neighbouring states.
The jihadists made a failed attempt to retake Marte in 2014 and were briefly successful in recapturing it the following year before being chased out again.
Boko Haram's deadly attacks have dropped in recent weeks, which security sources attribute to renewed military offensives following the end of the rainy season in September.
Previously suicide attacks on civilian targets and military checkpoints were a near daily occurrence.
Military advances on Boko Haram enclaves had been restricted since June because waterlogged tracks made movement of troops difficult, said the military source in Maiduguri.
"The rains have stopped and the terrain has begun to harden, making troops movement against the terrorists possible," he added.
"They (Boko Haram) are now feeling the heat after the break which from all indications made them fight back with the attack on the Marte battalion."