Mr. Oseloka Henry Obaze, the Peoples Democratic Party [PDP] candidate for the November 16 governorship election in Anambra State, in this interview, speaks on his vision for the state.
You have come a long way since you left the Ministry of Foreign Affairs for the UN headquarters in New York and back to Nigeria to serve as Secretary to Anambra State Government under two administrations. Why really do you want to become governor?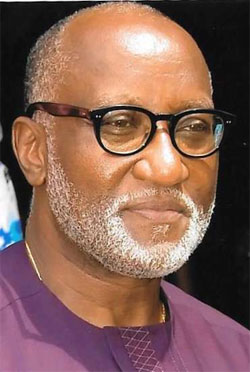 It is my right as a Nigerian citizen and an indigene of Anambra State to run for public office.
More importantly, I am confident that I am eminently qualified – in all ramifications — to serve as governor and do better than the sad experience we have had in the last three years or so.
Aside from my worldview, my service as Secretary to Anambra State Government – particularly in the administration of Mr. Peter Obi — afforded me the opportunity to contribute to the welfare of my people. Outside my work in the office, I was in the field on special assignments that took me through the bush, mud & floods to provide relief & rehabilitation to communities in distress.
I appreciate that public service should really be directed at people, communities and organizations that need it. It should not be an elite obsession with the flamboyance of undue protocols, sirens, motorcades, wild parties and so on.
Having been chosen by our great party, the PDP, I am offering myself for service in the knowledge that I have a programme of action that would elevate the state and our people economically, socially & politically.
What is your programme of action and how is it different from those of other governorship candidates?
Programme of action is a statement of intent, which is also expected to have been well thought-out by a candidate and his team. There is also the issue of commitment to its implementation when you get into office. On inauguration day – as happened in the case of this out-going administration – we heard all kinds of, "We will do this, we will do that, including a far-fetched unrealistic boast to build three independent power plants"; but what we have experienced are unfulfilled promises and deception that have undermined the aspirations and progress of the people.
Like it was successfully done with MDGs by the administration of Mr. Peter Obi of which I was a part, my programme of action is encapsulated within the framework of the Sustainable Development Goals [SDGs]. These basically cover all aspects of human and societal development – at the micro and macro levels — including agriculture, commerce & industry, education, health, security and infrastructure.
You were said to have facilitated access by some Nigerian government agencies to development partners. Do you propose to do same for Anambra if elected governor?
The world is increasingly assuming the character of a global village where best practices determine who makes the most progress and stays ahead of others. If I am elected governor, I will leverage on my international contacts and goodwill to attract varied international support for our programmes and projects. You will recall that during the tenure of Mr. Peter Obi, several development partners and donor agencies took active interest in the state's development model – Anambra Integrated Development Strategy [ANIDS], which ensured simultaneous development in all critical sectors of the economy and society.
Beyond the international arena, I will explore and pursue collaborative ventures with the federal and other state governments for the public and private sectors alike. My administration will not be restricted to the public sector, but extend to supporting the private sector to grow and develop. In the final analysis, the public and private sectors involve Anambrarians one way or the other.
The election campaigns of some candidates give the impression that there is war ahead. Are you not worried that things may get nasty?
It is a shame that a few of the candidates and their parties are fighting dirty, which does no credit to our state and people at large. For me, it is not a do-or-die affair even as I hope and expect to win in a free and fair election.
Of course, I am worried about the ugly trend in some quarters of trying to run me down with outright falsehoods and subterfuges that only serve to smear them further.
On the issue of security, I believe the relevant agencies are on ground to check mischief-makers and their sponsors.
Even then, haven't you pondered whether you should have stayed abroad?
As a human being, you occasionally reflect on the choices you have made in life and whether they have been worth it. Clearly, my tenure in the United Nations system had its compensations, but life is not all about material fulfillment.
I am certain that I made the right choice in accepting the invitation of a patriotic Anambrarian and Nigerian – Peter Obi – to return home to serve the people.
How do you assess your main rivals in the on-coming election? Do you really think you can defeat them, especially the incumbent governor?
My rivals are first & foremost indigenes of Anambra who have been selected – rightly or wrongly – by their political parties to run for the post of governor. Of course, my assessment of them cannot be pleasing to them, but I am aware that I can perform better than them as governor.
As an experienced technocrat, I do not engage in any pursuit with the thought that it would fail. In the same vein, I am not in the race as a 'Fall Guy", in the hope of being compensated with an appointment or contract by the eventual winner.
Be that as it may, election is a process involving a combination of factors, most important of which are the people – the electorate. It is my expectation that they would see through each of the candidates – particularly the incumbent – and make an informed decision on election day – November 16, which, interestingly, is the birthday of our revered Dr. Nnamdi Azikiwe.
What is your vision for Anambra?
Anambra possesses a wide range of potentials – in human & material resources — which can only be successfully explored & exploited by men and women of integrity & clear purpose for the benefit of the people. I will not just laze around awaiting the next allocation from the Federation Account, but re-energize our people and institutions to our famed vibrancy in resourcefulness, entrepreneurship, scholarship, administration and management.
I am confident the people will make an informed choice of who can and will guide them to meaningful & sustainable progress.