By Olayinka Latona
LAGOS—Bishop of Church of God Mission Int'l, Bishop Egwowa Matthew has charged Nigerians to be change agents in their various capacities so as to contribute their quota to bringing about the change that the nation needs.
Bishop Matthew gave the charge during his birthday celebration which also coincided with the church annual week-long programme tagged: 'Burning Bush'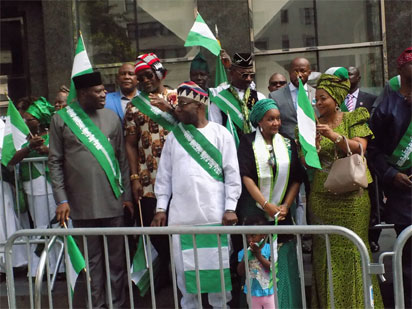 The cleric said that while Nigerians marked another Independence Day nationwide, as a country that hopes to flourish into a glorious future, God's presence is required and that all Nigerians have to contribute positively to the development of the nation.
He has also thrown his weight behind calls for Ekpanrestructuring of the Nigerian nation, noting that it would go a long way to providing solutions to several unnecessary agitations across the nation and open doors for Nigeria to settle down and address important issues that would give Nigerians a sense of belonging.
In his words: "I am very optimistic that this country will turn a new leaf, I am very proud of Nigeria, I talk about Nigeria anywhere in the world with much confidence. For lasting peace however, we should urgently look into the agitation for restructuring to address issues of economic imbalance and other forms of oppression otherwise agitations will not cease."
Bishop Matthew has authored about 10 books and his latest works are Acts of God 2 and 20 lessons on 'The Death of the Giant.'