By Vincent Ujumadu
AWKA— AGE grades are commonplace in most communities in the Igbo nation of the South-East. It provides the strongest structure of governance among communities in Igboland where they go by several names. An age grade usually acquires a name during its formative stage and it goes by that name until all the members are dead and the age grade ceases to exist.
Age grades are groups of persons who, according to societal norms and values, are regarded as people of the same age. Age grades do vary from one community to the other.
In some communities, persons within a specific period of three, four or even five years age bracket form an age grade. In some communities, the female wing of the age grade operates independent of the male wing. For instance, due to age difference, a man and his wife could belong to different age grades.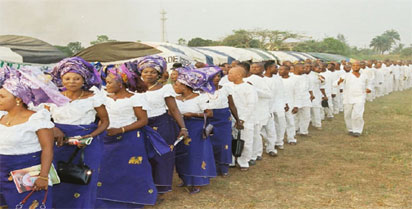 Also in some communities, entry into an age grade is usually marked by an initiation rite which may be the crowning of a long and complex preparation.
In the pre-colonial period, the newly formed age grades had to prove themselves for maturity by defending the community against hostile neighbours or enemies.
Each age grade is given a special name that helps define its position in the community, relative to other age grades. Members of each age grade are meant to know one another fairly well, to choose leaders among their members, to meet regularly to discuss issues of mutual or communal interest, and should be willing to help one another and defend the community when the need arises. In spite of the speed of modernisation, industrialisation and urbanisation, the roles of age grades in the communities in Igboland remain significant and impactful.
The most important roles of age grades include unity among members, maintaining security of lives and property, enforcement of law and order, development and execution of community initiatives and projects, crime control which is a growing area of need in many communities. Others  include conflict resolution within the age grade and in the entire community.
Other roles of age-grades include serving as agents of change and modernisation and sophistication; role models and community conscience; educators and socialising agents; managers of projects; advocates of best practices; power balance in community initiatives; providing voice and support to the poor and the disadvantaged; enforcers of ancestral wishes and protectors of cultural values and norms; and pulling the community ahead and ensuring good value orientation.
With the discipline and organisation that many age grades exhibit in Igboland, they do better in projects execution than what has been seen in recent times and should therefore be better funded to impact the community's socio-economic development.
It is often a sight to behold during certain festivals, like New Yam festival, when various age grades put on their various uniforms.
Many age grades learn dances which they import from neighbouring communities or age grades and such dances are displayed during important festivals or burial ceremonies.
Where there is unrest, high level of criminalities and social dislocations in communities, the age grades are trusted and called upon to bring about sanity.
In any Igbo community where there is unrest, the question usually asked is, "Where are the age grades?" Any member of an age grade who is not financially up to date loses his rights should anything happen to him or any member of his family.
In Okija for instance, age grades are so powerful that they can decree that nobody should attend the burial of a member that is in default. It is therefore common to see many families fulfill all demands, including payment of all the unpaid dues, before the community could attend such a burial.
In many communities, age grades rotate leadership such that after a period of three or four years, that age grade steps down for the grade below it to take over the leadership and form the government of the community.
Often, the main reason for changing the leadership is age, as it is believed that age grades above 60 years might not have the energy to run the affairs of the community properly.
In many communities, age grades build town halls, provide boreholes, renovate schools and institute scholarship schemes, among other projects. In Ihiala, the Igwebuike Age grade built a magnificent hall named after the age grade. Such projects are also found in Abiriba, Ohafia and Arochukwu in Abia State.
Social dislocations
Chairman of Oganiru Age Grade in Okija, Anambra State, Mr. Simon Udenna gave an insight into the operations of age grades in his community. He said: "Age grade ensures discipline in every community. One can imagine what could have happened if there were no age grades in various communities.
"During burials, all age grades in the community sit together, make contributions  towards the burial of the deceased and entertain themselves.
Members of the age grade who fail to attend the burial without cogent reasons are made to pay stipulated fines. If such fines linger till anything happens in the family of the defaulter, no age grade would be allowed to enter the family.
"That is why even people residing abroad have their dues paid by members of their families, just in case anything happens. Age grades also settle quarrels in the community and sometimes, some communities ban the involvement of the police in the settlement of rifts."