By Emma Amaize
WARRI – THE Pan Niger Delta Forum, PANDEF, has declared Yoruba and northerners were free to live and engage in whatever lawful endeavor in any of the Niger Delta region without fear and molestation.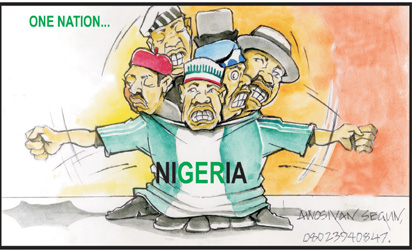 Coordinating Secretary of PANDEF, Dr. Alfred Mulade, said this in statement, Friday, commending the Coalition of Niger Delta Agitators, CNDA, for vacating the quit notice issued to the Yoruba and northerners residing in the Niger Delta region and threat to destroy oil blocks owned by foreigners in the region.
"PANDEF is delighted to note the patriotic act by CNDA to rescind its earlier decision to destroy oil and gas facilities and vacating the quit notice issued against the northerners and Yoruba in deference to the appeal by Chief Edwin Clark-led PANDEF.
"By heeding the voice the voice of reason of the national leader of PANDEF, Chief Clark, when he made the appeal to CNDA, it is very instructive that there is no alternative to peaceful resolution of the grievances which have bedeviled the region for so long.
"These are the ills that PANDEF's 16-point agenda is determined more than ever to provide the desired leadership and purpose for the sustainable peace and development of the Niger Delta region, as has been variously maintained and canvassed by Chief Edwin Clark.
"It is worthy to also note the goodwill and attention PANDEF enjoys across the region and from the standpoint of the Federal Government's adoption of the 16-point agenda for the development of the Niger Delta region. What PANDEF is doing now is concerted commitment towards deepening purposeful engagement with government for the utmost realization of the myriad development objectives in the region," he asserted.
Mulade added: "PANDEF urges all other agitators in the region to galvanize the needed efforts for the betterment of our region, including the very vexed issue of restructuring of the country along the lines of fiscal federalism, and the long awaited implementation of the 16-point agenda, which should begin with the various positive pronouncements that have been made by the Federal Government, as Nigeria is better as a united entity found on equity and justice."