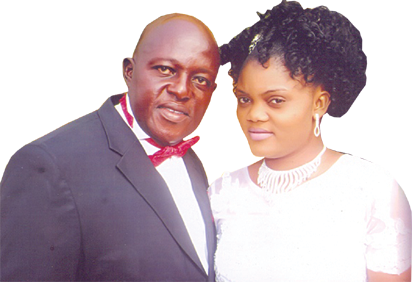 Hakeem Rahman and wife
BY BENJAMIN NJOKU
Renowned actor and one-time manager in a first generation bank, Hakeem Rahman, believes in love at first sight. In this interview, he relives the memories of how he fell in love with his wife, Gania Adeleke, while he was on his sickbed about 25 years ago. On her own, the wife admits to falling in love with him because she saw in him the qualities she wanted in a man.
How we met
We met in a hospital where I was on admission. She was also admitted in the hospital. Then she was working in UBA while I was working in Union Bank. She later resigned after putting in 16 years and became a teacher in a government owned school. I joined Union Bank in 1980 and left in 1999. Destiny brought us together when we met while on our sick beds in the hospital. That was in 1991.
Falling in love 
When I saw her, I was moved as I confided in a friend then that I met in hospital a woman I loved. And he told me that she was living very close to his house and promised to introduce me to her. The same day, I got her telephone number and we started talking. We went out for lunch twice. Sometimes, when we closed from work, I would go and pick her with my friend who had a car then. There and then, I discovered she was a committed young woman. That was how we hooked up.
Attraction
Her humility attracted me to her. She was humble, gentle and easy-going. Besides, I saw hope and progress in her. Unlike the young girls of these days who have the desire to have fun, she wasn't such a woman. She was interested in a relationship. We dated for two years before I proposed to her.
Already into acting 
I had already started acting before I met my wife. But while I was working as a banker in 1992, I was already featuring in movies. I featured in the popular sitcom, Checkmate, in 1993 and I played the role of Dr Kami. It was the sitcom that shot into prominence RMD, Ego Boyo, Bob Manuel Udokwu, the late Francis Agu among others. Then my wife never knew I was into acting. She's this kind of Christian-minded fellow.
Love at first sight!
It's possible. That was the first time I set my eyes on her but the relationship didn't take off immediately. There was a time we had a break. Then I used to have more than a handful of women around me. I used to carry this Afro hair and every woman would want to have me for lunch. She was too quiet and easy-going. I liked hot babes, but each time they dealt with me, I remembered I had somebody that truly loved me and that was how I went back to her. Unbelievably, she was still waiting for me. And when I came back, she accepted me wholeheartedly. She didn't reject me. In fact, she told me that she knew I was going to come back to her.
Women in my life 
I had two other women in my life then. One was a nurse while the other one was a teacher. The two women were beauty queens. They were the epitome of beauty and head-turners. But, eventually, they sold out. The nurse gave up while the other lady was busy messing around.
Fear of other women snatching you from her
There was a time my wife nearly had hypertension over me. She cried and said this was why she didn't like to have anything to do with a handsome man. The headache was too much for her. At a point, I started feeling for her. But I couldn't help it because I was a very handsome man.
25 years in marriage
I have been married for 25 years now. I married in 1992. I have five children. My wife, a Christian, has hardly changed. She is still the same woman I married 25 years ago. But I'm the person that has changed as an actor. My job exposes me to people as well as to temptation. Even as old as I am, young girls still come after me.
My father told me I should not come back to his house – Wife
Marriage proposal
I didn't agree to marry him immediately. I gave him a tough time because I needed to make inquiries about him.
Attraction
He was working in the bank then just as I was working in the bank too. I believed as bankers; we would understand ourselves and be able to live a good life. I had wanted to marry a working class young man; not necessary that he must be so rich but, at least, he should be comfortable to take care of his family.
Changed from the man I married? 
Not at all. He's jovial and he doesn't hide anything from me. He has no secret unlike men who would not share their secrets with their wives.
What he has done to me that pained me most
He hasn't really hurt me in any way. But the only thing is that most times when he promised to buy something for me, he will not fulfil the promise immediately. I would have been waiting for him to fulfil the promise before he would come up with one excuse or the other. It doesn't mean that he would not fulfil it later. But as for taking me out, every 26th of December, he always has time for the family. He will take me and my children out to catch fun.
Challenges of marriage
There is no marriage without challenges. Most challenges we faced in our marriage emanated from his family. But we thank God we were able to overcome the challenges.
Attempt to quit marriage
My father told me from the outset that I should not come back to his house for any reason. Whatever challenges that come our way, I try to face it with him. I won't quit.
What kept my marriage going in the last 25 years
Understanding and appreciating each other even when the going seems to be tough. Also, our children from time to time try to be involved in what happens in the family.
Leaving banking job
It was around 2017. I walked out of the job because it was becoming stressful. I couldn't continue combining it with building my home. But when i left the banking hall, I got another job as a librarian in a government school.